TGV M on test at Velim
The first prototype TGV M No. 996 arrived at the VUZ test base at Velim, Czech Republic, on the 7th December 2022 having left the Alstom La Rochelle plant on the 25th November. It is seen above under test on the 10th December 2022. A video of the testing is available
via this link
. Photo and video:
Tomáš Pelech
Railcoop extends to Saint-Gaudens
Although Railcoop are making slow progress with their proposed passenger services they have now extended their freight service to Saint-Gaudens. On 26th January they operated their first service from Capdenac to Saint-Gaudens with their leased Vossloh G1000 and seven wagons of timber, seen above at Saint-Agne, south of Toulouse. Previously they have only worked to St Jory Yard with SNCF Fret providing the traction onto Saint-Gaudens. Photo: Georges Turpin
Le Train selects Talgo to supply high speed trains
Open access operator
Le Train
has signed an agreement with Talgo for the development of an initial 10 high-speed trains based on Talgo's Avril platform.
Le Train
was formed in 2020 with the aim of introducing regional high-speed trains in Western France using the Sud Europe Atlantique LGV between Tours and Bordeaux.
Until now Le Train appeared to have lacked the financial backing or meet the regulatory requirements to operate a rail service. They now have financial support from two banks and on 24th December 2022 obtained their Railway Company Licence. To operate trains they still need a safety certificate and Eurotunnel operator Getlink will be providing driver training.
Initially
Le Train
planned to purchase and renovate former SNCF TGVs. This did not materialise, mainly due to EU regulations on the re-sale of rolling stock containing chemical substances that are potentially carcinogenic.
Le Train
were then left with little option but to acquire new rolling stock,
and issued a tender in early 2022,
although this will delay the launch by two or three years
. Following their successful bid Talgo and
Le Train
have joined forces to develop a fleet of high-speed trains with the option of a maintenance contract, as well as creating a joint research and development unit in Nouvelle-Aquitaine.
Once the formal order has been placed, estimated to be worth in the region of €300 million, construction of the ten 330km/h trains will begin in the first half of 2023 at Talgo's plant in Rivabellosa (Álava).
Delivery of the first train is expected in early 2025.
Le Train plans to operate 50 services a day over five routes serving 11 destinations connecting Rennes, Nantes, Tours, and Angers with Bordeaux, Poitiers, and Angoulême, and the coastal cities of La Rochelle and Arcachon. The trains will be designed specifically for this market each carrying 360 passengers and include space for bicycles and surfboards. Image: Talgo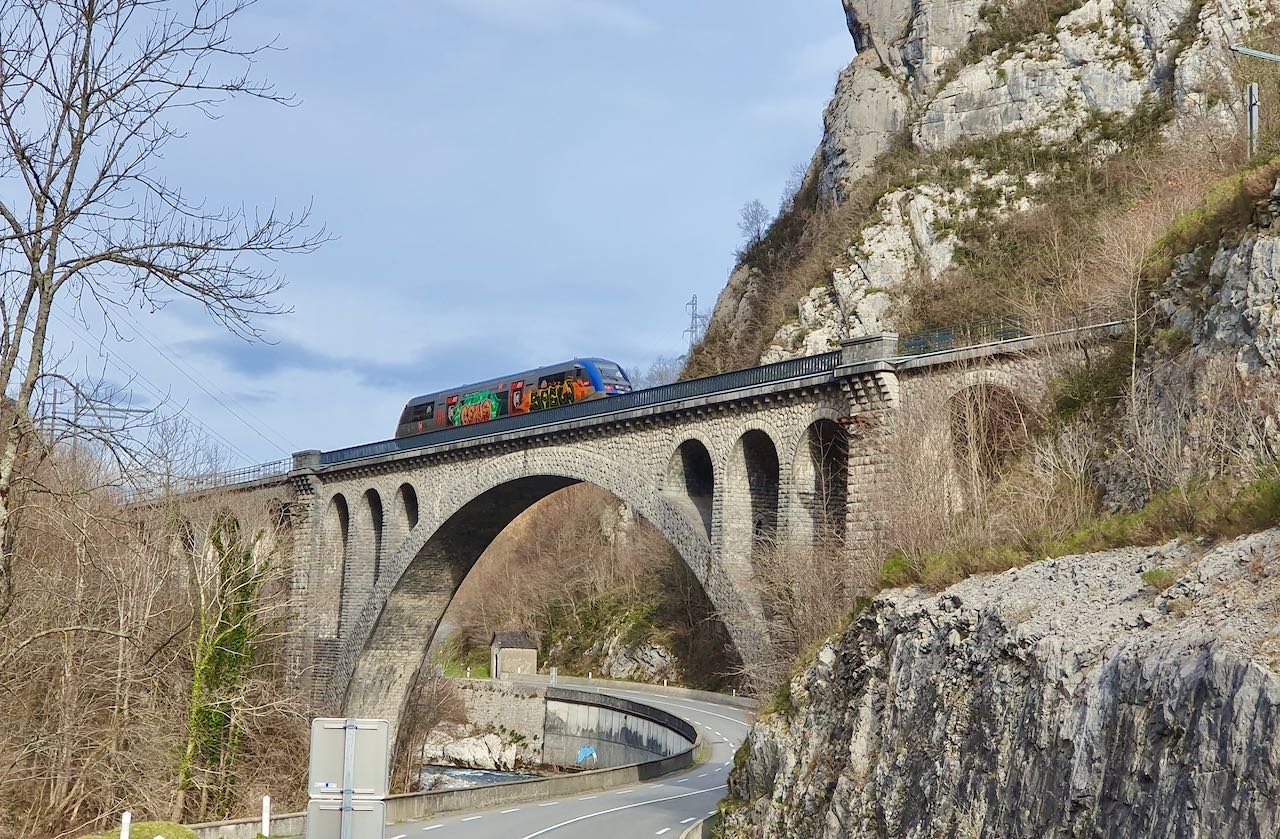 Funding for Transpyrénéean studies
At the end of October 2022 the conseil régional de Nouvelle-Aquitaine approved a grant of €10 million for further studies into the technical feasibility of reopening the last section of the Transpyrénéean route from Pau to Canfranc in Spain. Rebuilding the 33km portion southwards from Bedous (reopened 2016) to the Spanish border station of Canfranc would be the most difficult and costly part of this project. Long supported by the conseil régional and the EU, the line is seen as vital to reducing road traffic in the upper Aspe valley and as a part of a potential freight route between France and Spain, the latter aim depending on conversion to standard gauge on the Spanish side.
Spain's railway infrastructure manager ADIF awarded a contract last September for studies into regauging between Huesca and Canfranc (138km). The proposal also includes electrification, installation of ERTMS and provision of 450m long passing loops. Recent upgrading of the Canfranc line has seen installation of sleepers suitable for both 1 668mm and standard gauge.
After two periods of closure during the year for flood repair works, the Pau – Bedous line reopened to traffic on 13th November 2022 with four return trains daily and seven at weekends.
On 29th December, heavily-graffitied X73500 railcar No 73789 formed TER 867426 the 12.10 Bedous – Pau, seen above on the viaduc d'Escot north of Sarrance and right at Bedous before departure, awaiting the connecting bus from Canfranc. Photo:
Chris Bushell
GPSO funding for LGV
At a meeting in Toulouse on 13th October, the steering committee of Grand Project Ferroviaire du Sud-Ouest (GPSO) announced funding totalling €67.5 million for the Bordeaux – Dax and Bordeaux – Toulouse LGVs. Agreements between the State, the Agence de Financement des Infrastructures de Transport de France (AFITF), GPSO, SNCF Réseau and SNCF Gares et Connexions have released three tranches of funds for preparatory works starting this year.
The largest, €58 million, will finance detailed studies and land acquisition for the two lines which total 327km, while €4 million is for preliminary design studies of the new stations serving Agen, Montauban and Mont-de-Marsan. The remaining €5.5 million will fund preparatory works and land acquisition for four-tracking the existing alignment north of Toulouse to Castelnau-d'Estrétefonds (21km), where the LGV line joins the classic POLT route from Paris.
It is hoped that work will start by the end of 2023. Opening of Bordeaux – Toulouse is scheduled for 2030 and Bordeaux – Dax in 2034.
At Agen, a connecting line to the existing town station is planned, while at Mont-de-Marsan access will be via a short spur from the LGV station at Lucbardez-et-Bargues, a few kilometres northeast of the town, to the adjacent freight-only branch to Roquefort.
GPSO is the public corporation created in 2022 to raise funding for the two lines from regional and local sources. Its steering committee comprises representatives from Nouvelle-Aquitaine and Occitanie régions, SNCF Réseau, SNCF Gares et Connexions and 25 départemental bodies. Total construction cost is estimated at €14.3 billion, 40 per cent of which will come from local sources through GPSO.
All communes within an hour's drive of one of the new stations will be required to contribute through an increase in their
taxe foncière
(local property tax).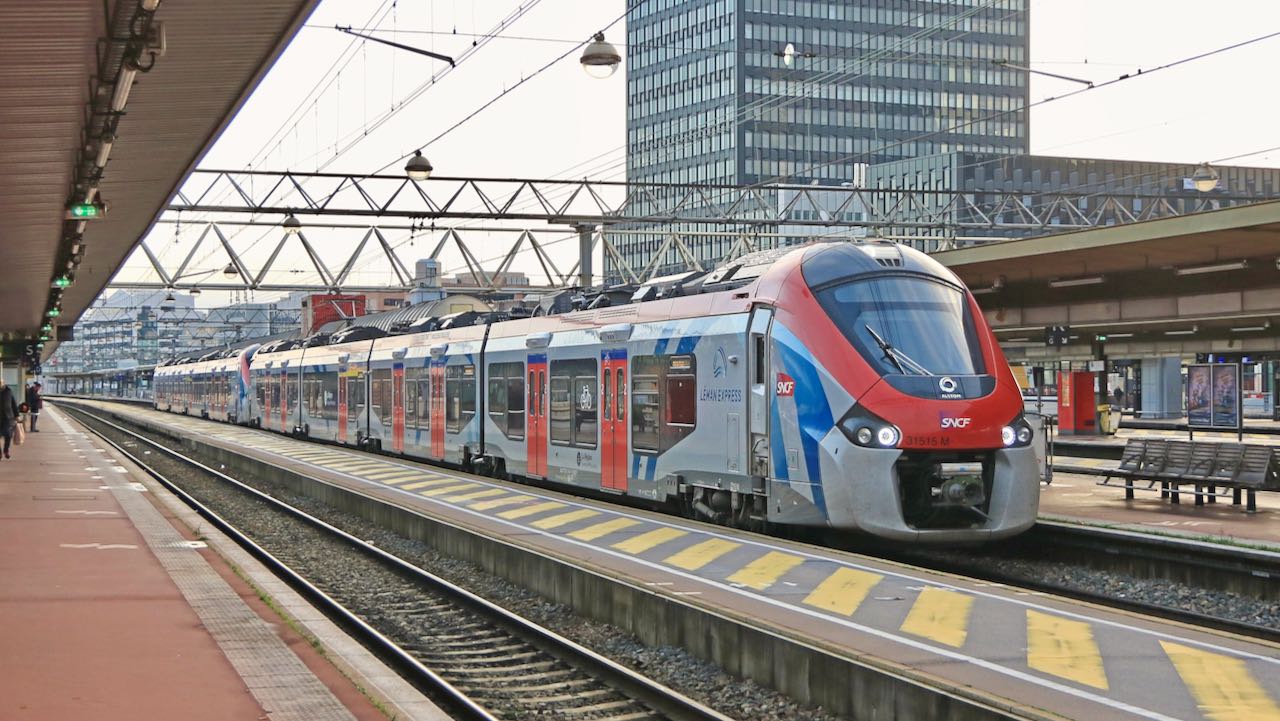 Léman Express at Lyon
On winter Saturdays the direct Lyon – Saint-Gervais service has bought the unusual sight of Léman Express Régiolis EMUs at Lyon. On 24th December 2022 Z31515/Z21533 wait to depart from Lyon Part-Dieu at 16.35 with TER 884830. Photo: Christophe Masse
Chartres – Courtalain-St-Pellerin to close for eight months
The Chartres – Courtalain-St-Pellerin branch is to close for eight months in August 2023 to enable the line to be rebuilt. The 53km route is expected to re-open in April 2024; the €49.6 million cost is being shared between the State, the Centre-Val de Loire région and SNCF Réseau. In 2019 emergency work was carried out to avoid imposition of a 40 km/h speed limit. This was mainly between Chartres and Brou where 4.2km of track was replaced, with 15,000 sleepers and 42,000 tonnes of ballast laid.
The current scheme will see 38km of track rebuilt using recycled rails and ballast from the nearby LGV Atlantique. In addition 18 level crossings will be renewed. The line currently carries 245,000 passengers a year and heavy freight. The work is expected to allow 100 km/h running for a further 15 years.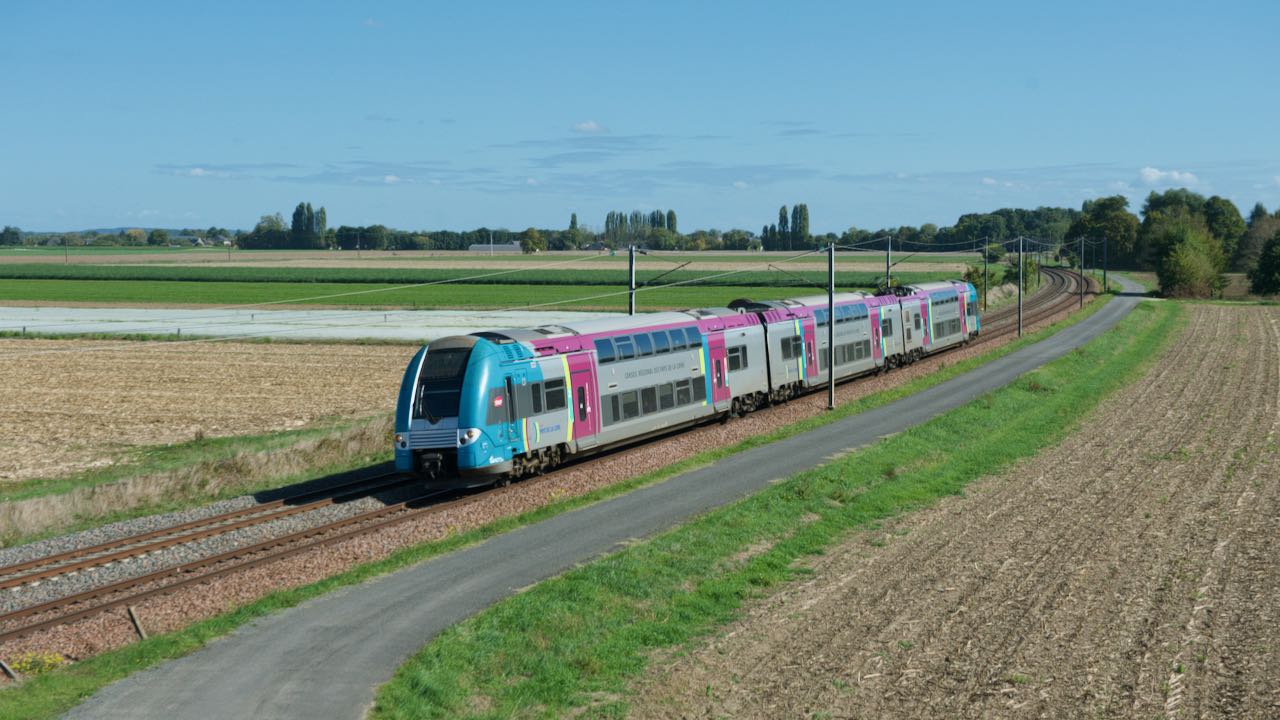 On 8th October 2022 Pays-de-la-Loire TER Z24500 No 396 approaches
Saint-Mathurin-sur-Loire with the
12.42 Tours – Angers
. These units form the backbone of local services on the mainline west of Tours to Saumur, Angers and Nantes. Apart from the morning and evening peaks, services are infrequent and long distance services from Nantes call at St-Pierre-des-Corps to avoid a reversal at Tours. With the boundary of the Pays-de-la-Loire and Centre-Val-de-Loire
régions
just east of Saumur, the stopping services for stations west of Tours are provided by the neighbouring region's TER.
Tours seeking to develop RER network
The Tours Métropole and Indre-et-Loire départment are seeking to develop an RER network, encouraged by President Macron's announcement last November of RER networks for the 10 largest cities. With two tram lines and eight local rail lines radiating into the surrounding area Tours already has an exceptional but under-utilised infrastructure. Recent developments have favoured roads with stations closed and trains scarce on some lines. The branches southwards to Chinon and Loches suffer from degraded infrastructure which restricts service provision, as does the line northwards towards Vendôme. The eight lines generate 2.7 million passenger journeys from Tours each year but this only represents 10 per cent of local journeys. With the area's population projected to grow, development and expansion of rail services is now seen as essential.
On the 27th January the presidents of the Tours Métropole, the Indre-et-Loire départment and the Centre-Val-de-Loire région signed a statement of intent to create the RER network. Although this is not binding it secures the support of the région and will be carried forward into the four year plan between the région and the state for the period 2023 - 2027.
The government has set aside €30 million to finance studies into development of provincial RER networks, the initial view being that priority should be given to the cities with the heaviest freight vehicle traffic: Aix-Marseille, Bordeaux, Grenoble and Lyon.
Meanwhile in Strasbourg the position with REME
(
Réseau Express Métropolitain Européen)
has yet to improve
.
Under the scheme introduced in January, 130 additional weekday services were scheduled but cancellations have been running at about 100 trains a day due to a shortage of rolling stock and train crew, creating more uncertainty for rail users. By way of apology, SNCF is offering half-price season tickets for a three-month period across the Région.
The Région now accepts that the introduction of the new services should have been more gradual, while SNCF is planning a relaunch this month.
RATP steps up driver training
In a bid to increase services to reduce overcrowding and prepare for the 2024 Paris Olympics, Paris Metro operator RATP is recruiting 400 trainee drivers. To speed up the training process a night shift has been introduced on the Virtualigne simulator with trainees working through the evening until 01.00.
Full automation for Metro Line 13
A ten-year plan has been announced to fully automate Paris Metro Line 13 in two stages. The 24km line runs from Chatillon-Montrouge with two branches to Saint-Denis-Université and Asnières-Genevilliers-Les-Courtilles. It has 32 stations and carries 600,000 passengers a day. It will be the first automation of a line operating steel-wheel rather than rubber-tyred rolling stock.The first stage will be replacement from 2027 of the existing Alsthom MF77 fleet dating from the early 1980s with new five-car Alstom MF19 trainsets. These will operate automatically with the driver controlling the doors. Once platform screen doors have been installed at all stations, full unattended operation will be introduced in the early 2030s.
Biganos yard upgrade
Works costing €1.2 million have been completed in the yard at Facture-Biganos at allow access for wagons of 90 tonnes load. Financed by the State and the Nouvelle-Aquitaine région, the improvements are part of a long-planned scheme to reduce the number of heavy lorries serving the Smurfit-Kappa Cellulose du Pin paper factories at Biganos. Currently, there are some 400 heavy vehicle movements a day, amongst them empty lorries which are routed over 4km of local roads to reach the loading areas.
The company's private sidings are already used for both inward and outward traffic, with four tracks of 300m length capable of accepting 90 tonne wagonloads. However, since 2014, degradation of the reception sidings at Facture-Biganos station has restricted weight to 80 tonnes. Now rail, sleepers and ballast have been renewed to a standard suitable for higher axleloads. Smurfit-Kappa hopes that deliveries of green timber can be transferred to rail, as well as export of paper reels to Holland, Germany and Italy. Other traffic likely to transfer includes 100,000 tonnes of used cardboard annually from the Paris region and 80,000 tonnes of pulp from La Rochelle.
Paris ticketing contract.
A six year contract to supply and maintain ticket vending machines (TVMs) has been awarded to Easier, part of the IER Group, by Paris Transport Operator RATP. Replacement of 2,400 TVMs at Metro and RER stations will begin this year as part of a wider modernisation programme by Ile-de-France-Mobilités.
Easier will supply two types of TVM: A large machines accepting notes, coins, cards and contactless payments and a smaller design not handling cash.
No more compostage
With most tickets now sold in digital format, SNCF is to discontinue the yellow
machines de compostage
in which passengers validate their paper tickets before travel. TGV and Intercités tickets are almost entirely digitalised, while for TER journeys fewer than 4 per cent now require validating. The 3000 or so
composteurs
at stations all over the country will be phased out during 2023. Passengers still holding paper tickets, including for some international journeys, must now seek out the
chef de bord
to have their tickets validated before accessing the train.
Freight operators seek government intervention on power charges
France's railfreight operators are seeking government intervention to cap increases proposed by SNCF Réseau to electricity charges.
Last year SNCF Réseau announced that it would increase electricity charges this spring to €473.51 per MW/h a 745% increase on the €56 MW/h charged in 2021.
The railfreight operators met with Government officials last November and were expecting a response before Christmas but none has been forthcoming. They have proposed that the charges should be capped at €160 MW/h, to maintain rail freight's economic viability. In addition to the obvious arguments about decarbonisation and environmental benefits, they also point out that if there is a sudden decline in railfreight there is not the capacity within the road transport sector for commodities normally carried by rail and would lead to supply chain issues. SNCF Voyageurs increased its ticket prices by 5 per cent on average from 10th January 2023, while setting up a 'tariff shield' aimed at to protect certain categories of travellers. It is reported that they have hedged their electricity prices for 2023 allowing more time to resolve the issue.
Dijon renews Keolis contract
The Municipality of Dijon has renewed the contract with SNCF subsidiary Keolis to operate their
DiviaMobilités
local transport services for the next seven years. This covers the city's two tram routes as well as buses, cycle hire and car parking.
Developments over the contract period will include modernisation of fare collection to enable all
DiviaMobilités
tickets and passes to be bought and topped up directly using a smartphone, with multimodal ticketing extended across the network, increasing cycling to 12% of all journeys and the introduction of hydrogen fuelled buses
RENFE begins testing in France
Since 16th January Spanish operator RENFE has been running test trains with AVE units between Barcelona and Lyon and
Madrid and Marseille
for crew familiarisation,
in preparation for introducing commercial services over these routes in the summer.
This follows certification to run to
Lyon
and Marseille by the French
Public Railway Safety Agency (EPSF) on December 22 and from the European Union Agency for Railways. RENFE is now seeking certification to operate throughout the French network to match SNCF Ouigo's certification for the
Spanish
standard gauge network.
Lohr Group developing light vehicle for rural lines
The Alsace-based Lohr Industrie, producer of the centre-rail guided trolleybus used in a number of French cities, is developing a lightweight rail vehicle for use on rural lines. Named
Draisy,
the project was selected in March 2022 after a call by SNCF for expressions of interest in a lightweight vehicle to replace conventional trains on rural lines, where they are deemed to be oversized, too expensive to operate and too hard on the track. It is estimated that there are 9,100km of rural lines suitable for such a vehicle, of which 85 per cent are non-electrified and including some lines proposed for reopening.
With a maximum capacity of 80 passengers of whom 30 can be seated, Draisy will incorporate a lot of bus technology, including mass-produced components. Rapid acceleration and braking will allow the vehicle to navigate road/rail crossings on sight, similar to a tram, obviating the need for expensive barriers.
Lohr is also developing a new axle to cope with poor quality track, and with an axleloading of 10 rather than 18 tonnes to reduce wear-and-tear and so lower track maintenance costs. GCK Battery, located in Boussy-Saint-Antoine (Essonne), is leading the battery and charging elements of the project, where the aim is to re-charge batteries at terminals for between one and three minutes during scheduled stops. Compared to a conventional rail vehicle
Draisy
production
costs are expected to be much cheaper with estimates that it could be as low as 20% of the cost of a single
autorail
.
Train testing is expected to take place on a pilot line in 2025.
AGC 81852 in Occitanie TER LiO livery brings a touch of brightness to the under-utilised layout at Tessonnières, junction of the Brive and Rodez lines, as it pulls away with TER Train 870054 the 13.07 Toulouse – Carmaux on 29th December 2022. Photo: Georges Turpin
AJECTA Festival Vapeur 2023
More details are emerging of AJECTA's
Festival Vapeur 2023
being held at Longueville over the weekend of Saturday 6th – Monday 8th May. Some 80 locomotives and items of rolling stock will be on display including nine steam locos certified for main-line operation. With the event being held on the anniversary of VE Day, the Festival will have a military theme. A range of trains including a demonstration freight, a military train and some double or triple headed will operate between Provins and Villiers-St-Georges and on the main line between Montereau and Romilly-sur-Seine.
Unfortunately, there is engineering work scheduled for the main line over the three days of the event, with no trains running between Paris and Longueville. Shuttles for ticket holders will be available to Longueville from Provins, Villiers-St-Georges, Romilly-sur-Seine and Nogent-sur-Seine. Tickets are priced at €60 for one day, €100 for two days and €140 for three days. This will include admission to the Rotonde at Longueville, viewing of the special trains and exhibits at Longueville station and travel on the special trains.
A special fund is also being set up for a photographers' day on Friday 5th May. For every €2,500 donated, AJECTA will operate a special train between Provins and Villiers-St-Georges.
Tickets can be purchased at
www.ajecta.fr
or by contacting 0033 1 64 08 60 62.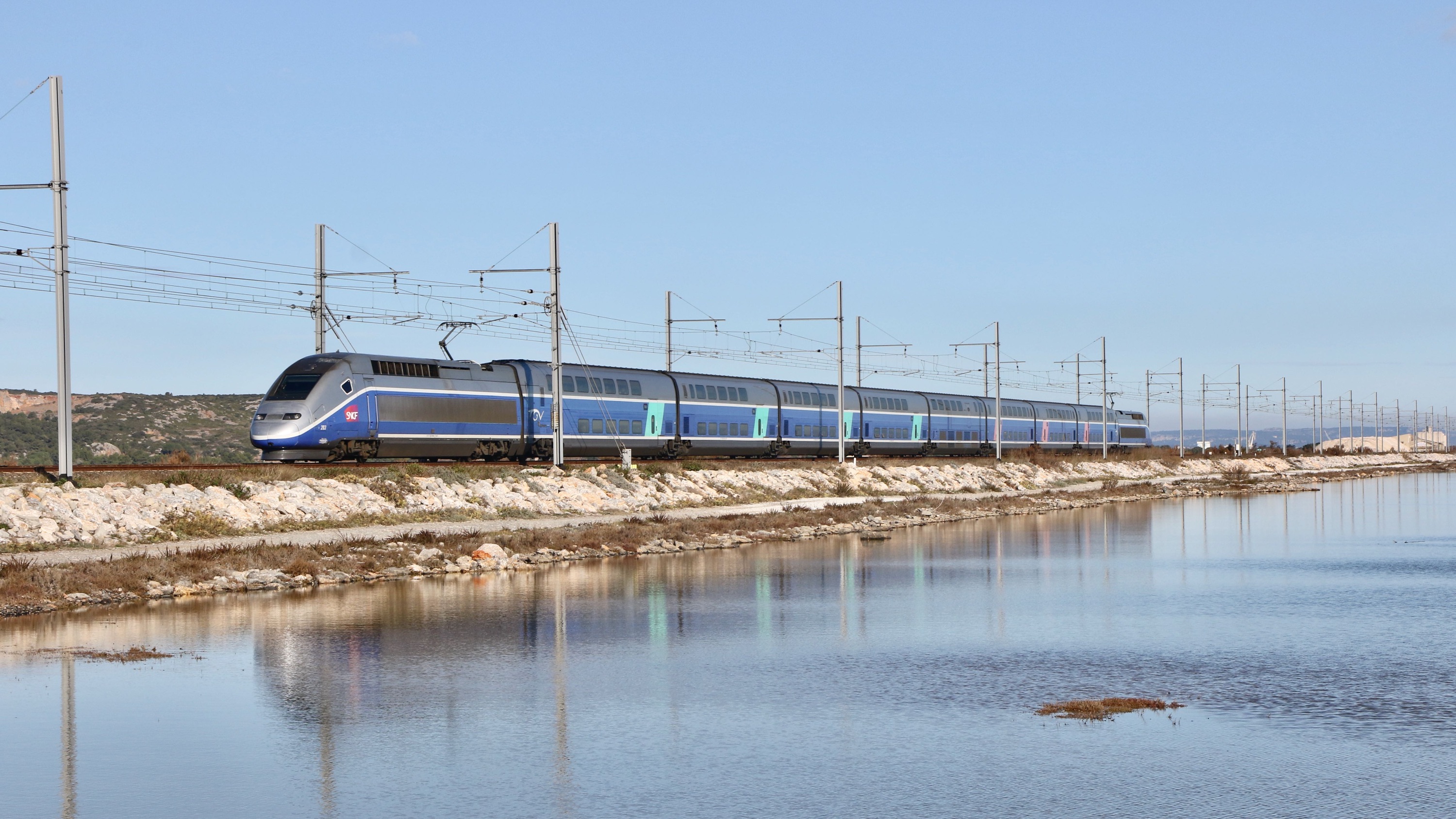 At the end of December just two duplex TGVs retained blue and grey livery 282 and 283, the remainder having been repainted into Carmillon or Ouigo liveries in recent years. On the 27th December 283 is almost at journey's end as it passes the étangs de Leucate with Train 6271 Paris – Perpignan. Photo:
Georges Turpin
Rolling stock guide updated
Platform 5 has published the 7th edition of
FRENCH RAILWAYS
LOCOMOTIVES & MULTIPLE UNITS
,
a completely revised and updated guide to all locomotives and multiple-units operating on the railways of France.
It includes detailed fleet lists for national operator SNCF, Paris transport authority RATP, private train operators and track maintenance companies, plus depot allocation and livery information.
There's also a brief historical account of the development of railways in France and a general overview of the organisation and structure of French Railways today.
The guide is compiled by the former editor of Today's Railways Europe and Society member David Haydock. A resident of France, David has spent many years reporting on rolling stock matters and is widely-regarded as a leading authority on the subject.
Softback, 240 pages, over 80 colour illustrations.
© Peter Lovell & Chris Bushell. The French Railways Society 2023. With thanks to Georges Turpin, Christophe Masse, and

Tomáš Pelech

.