January 2023 News
Season's greetings to all of our readers
On 17th December AAATV-CVL ran a charter from Orleans to Tours with 141 R 840. Seen above near Beaugency on the return journey. Photo Erwan Quintin.
Industrial action disrupts Christmas services
While the UK's rail system was chaotic in December and over Christmas, with strikes and numerous cancellations, the situation was little better in France. A strike from 23rd to 26th December by
Chefs à Bord
on TGV and Intercités services saw numerous long-distance cancellations. With alternative services fully booked, there was no spare capacity. Some 200,000 passengers were unable to travel and SNCF offered compensation of 200% of the ticket value. SNCF management made an offer to the unions that was accepted on 23rd December. While this averted further strikes planned for the new year, the Christmas holiday weekend saw around one-third of trains cancelled.
The unions were accused of holding rail travellers hostage over Christmas, but responded that management had been doing that for months with cancellations due to staff shortage. They quoted Béziers to Millau where on 24th December two of the three daily trains were cancelled due to staff shortage, with some form of cancellation taking place most days due to lack of train crew or signalling staff. In sparsely-populated Lozère, trains between the préfecture Mende and La Bastide-Saint-Laurent have run only once a week since October, with buses replacing the scheduled service. Nevertheless, crew can be found to run an empty train every 72h to maintain the line.
On 12th December, elected officials and rail users held a demonstration at Limoges over the deteriorating level of service on the Paris – Orleans – Limoges – Toulouse line (POLT). In addition to frequent cancellations and delays, the fastest journey time between Limoges and Paris has increased from 2h 50min to 3h 20min over the last eight years. On 14th December a news reporter from Franceinfo was sent out to gain first-hand experience. Leaving Limoges on Intercités 3614 at just after 05.30, they encountered passengers who had joined the train at Brive at 04.40. Booked on the 07.00 departure from Brive that had been cancelled the previous evening, these passengers had been forced to rise at just after 03.00 to make the 45min journey to Brive station. After a lengthy stop at Vierzon, passengers were told that the train would be diverted via Nevers due to ice on the catenary. Arrival in Paris was eventually at 13.35 instead of 09.19. SNCF said it was due to exceptional climatic conditions causing ice to freeze on the catenary, although the unions contend that there are insufficient drivers to operate de-icing trains.
Commentators observe that the situation should accelerate the introduction of competition in the domestic rail market to improve reliability and reduce ticket prices. Introduction of the Trenitalia service in December 2021 between Paris and Lyon is seen as an example. While ticket prices have increased elsewhere, they have fallen by 8% between Paris and Lyon and by 17% between Paris and Milan, while passenger numbers have increased.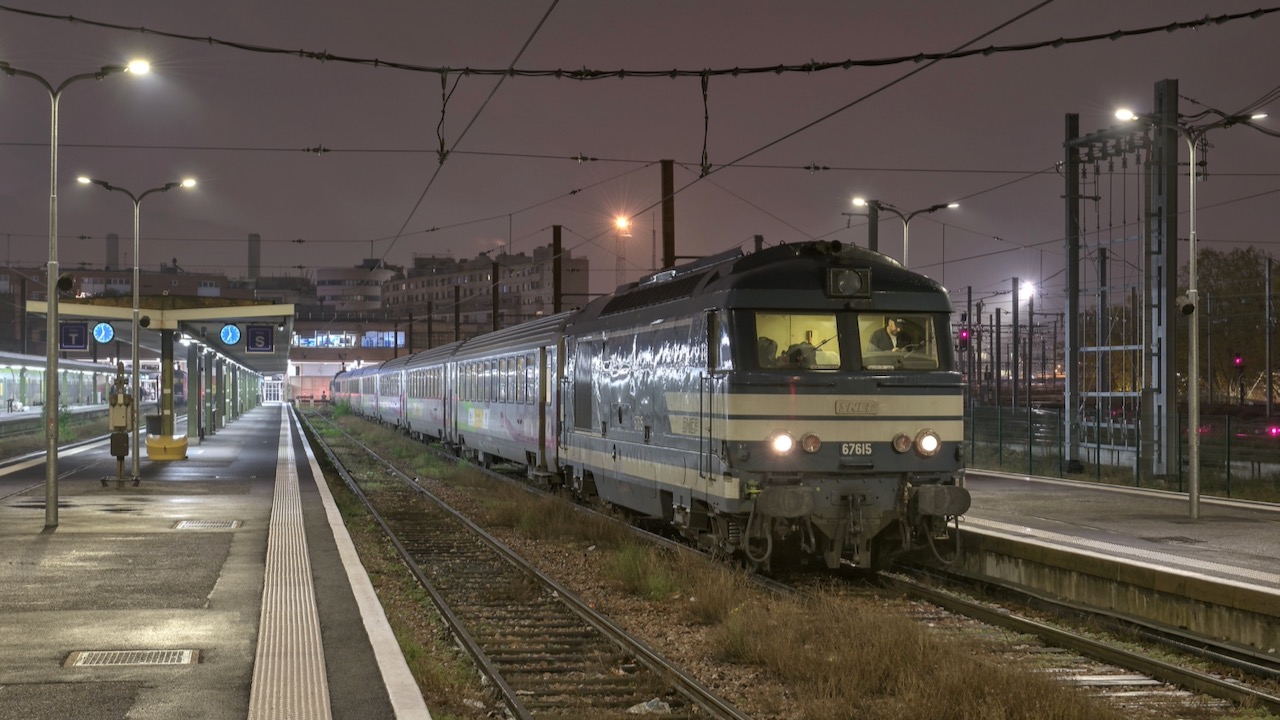 Diesel traction returned to Paris on the 2nd December when Nevers turned out BB 67615 in place of the regular BB 22200 for the 05.51 to Paris Bercy. Instead of being returned to Nevers dead in tow BB 67615 made two return trips to Paris, seen above waiting to leave Bercy for Nevers in the evening. Photo Erwan Quintin
Oxygene – Breathing new life into Intercités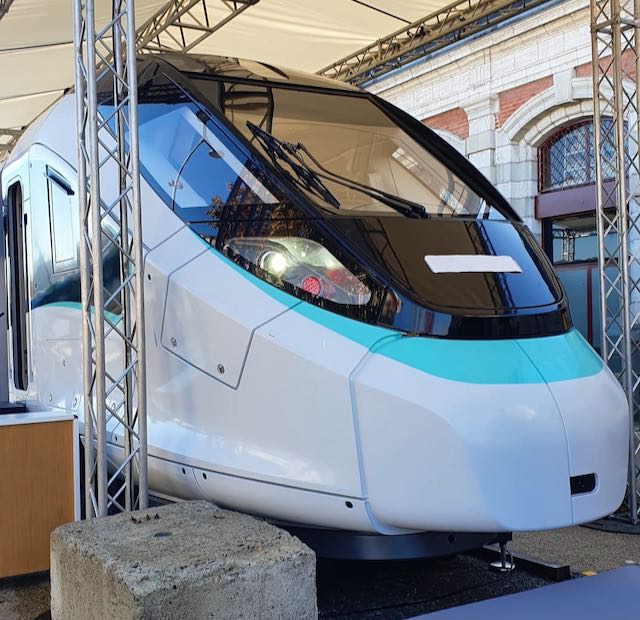 A full-scale model of the new electric trains for TET
Intercités
services on the Paris – Clermont-Ferrand and Paris – Orlèans – Limoges – Toulouse (POLT) lines went on display at Brive and Clermont-Ferrand during December. Branded
Oxygène
(formerly
Confort 200),
28 trains are on order at a cost of €700 million. The full fleet is expected to be in operation by 2026, replacing the existing locomotive-hauled Corail stock. Sixteen sets are destined for POLT, with the remainder serving Paris – Clermont-Ferrand.
Manufactured by CAF at Bagnères-de-Bigorre in the Hautes-Pyrénées and Beasain in Spain, the new trains are ten-car articulated units 188 metres long, dual-voltage (1.5 kV/25 kV) with a maximum speed of 200 km/h. Each set will offer 420 seats (317 standard and 103 first class) and space for 10 bicycles; two units will be able to operate in multiple.
They will offer level access from platforms for passengers with reduced mobility and wheelchair access to both first and standard class. Other features will include ergonomic seats (adjustable by electric or manual control), wi-fi, sockets and individual USB ports at all seats, and a service area for on-board catering.

A further €100 million is being spent on maintenance facilities. Workshops previously used for maintenance of TGVs at Villeneuve-Saint-Georges in Île-de-France will be adapted to undertake maintenance of the new trains. A light maintenance, washing and servicing facility will be built at Masséna (Paris Austerlitz) with servicing facilities provided at Clermont-Ferrand (including washing) and Brive.
No additional facilities are planned for Toulouse. This is interesting as the original tender included an option for a further 15 units for Bordeaux – Toulouse – Marseille
Intercités
services and there appear to be no immediate plans to replace the Corail stock on this route.

To counter years of under-investment, major infrastructure programmes by SNCF Réseau have been taking place on both routes, with €2 billion earmarked for POLT and a further €1 billion for Paris – Clermont-Ferrand. Within these totals, €385 million is being spent on POLT and €130 million on Paris – Clermont specifically to accommodate the new trains and allow speed limits to be raised, plus a further €26 million to update electrical installations between Melun and Moret.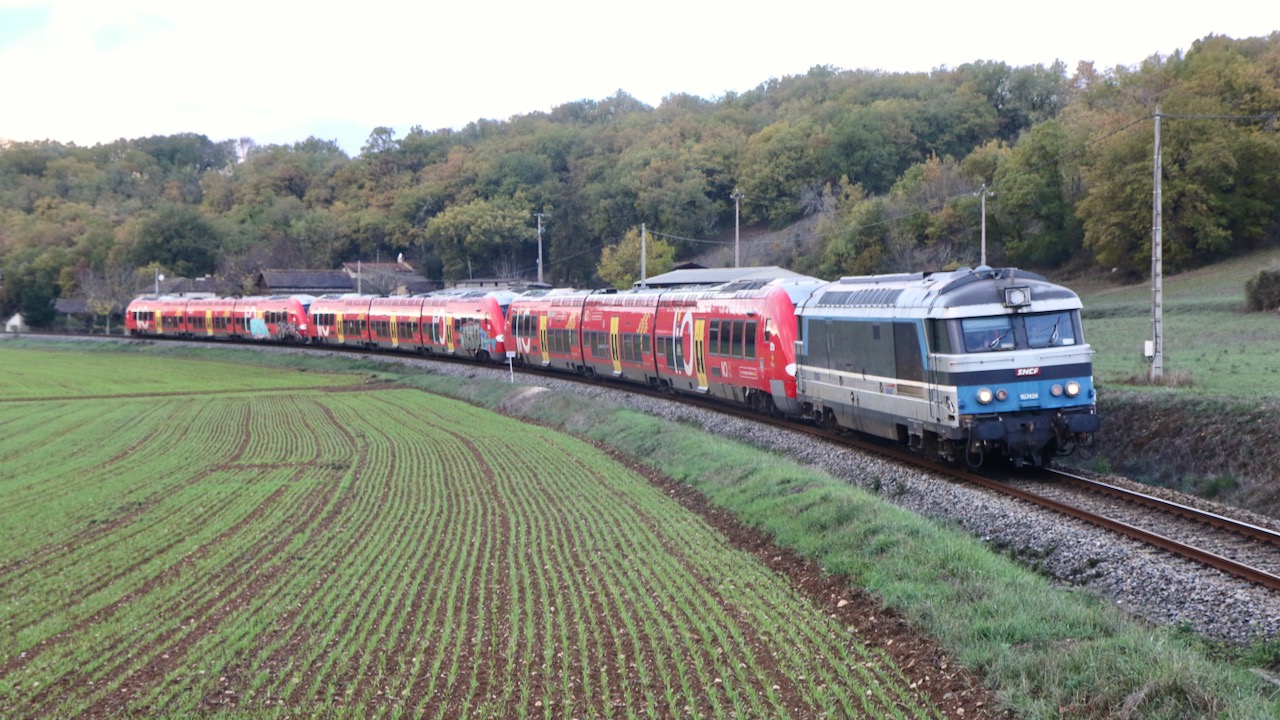 On November 29, 2022, BB 67424 (in its unique 'Isabelle' livery) was called upon to haul three failed BGC units (B 81851/2 + B 81856/55 + B 81848/47) from Capdenac to Toulouse for repair.
The convoy is seen above at Milhars (Tarn), south of Lexos. It is unclear how the three units had all failed in the Capdenac area. Photo Georges Turpin.
Strasbourg RER launched
In a joint project between Grand Est région and Eurométropole de Strasbourg, the first stage of an RER network connecting Strasbourg and surrounding towns was launched with the start of the new timetable on 11th December. It is the first of ten provincial RER systems proposed by President Macron. Known as
Réseau Express Métropolitain Européen (REME)
the project aims to reduce
reliance
on cars reducing emissions, pollution and congestion. In 2019 63% of journeys to work in the area were made by car and only 17% by public transport, and the new network aims to offer a
credible alternative to the car.
The first stage of the network comprises lines to Sélestat, Molsheim/Barr, Saverne, Mommenheim, and Haguenau. On these routes, Grand Est TER Fluo services now run at 30-minute intervals during the day, with more trains early in the morning and in the evening. A key element is that trains from Saverne and Mommenheim now run through Strasbourg gare to Sélestat, providing cross-city travel options. There are also improved connections with local buses and better facilities for those cycling to stations.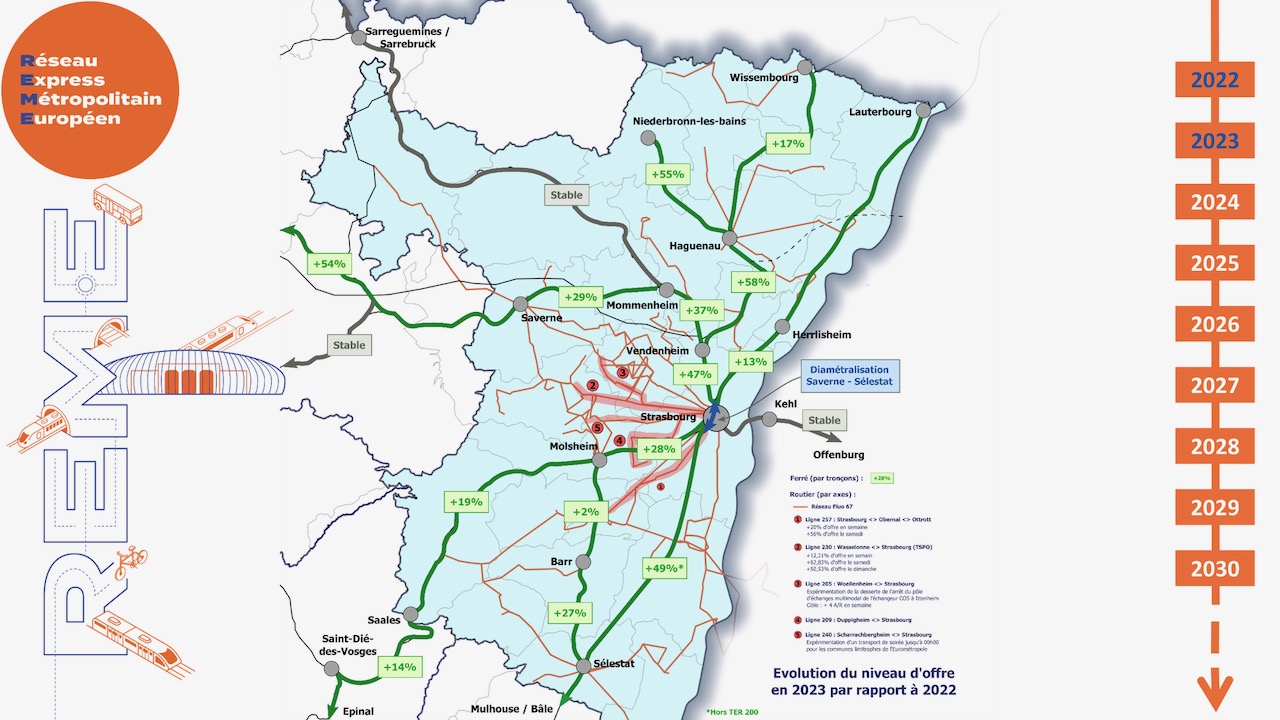 The new services amount to an additional 813 trains each week, plus a further 67 introduced from 2nd January 2023. Annual operating cost of these additional services is €13.5 million. In a second phase, it is planned to add another 192 trains from 21st August 2023, an increase of 43% over 2022 levels. To accommodate the new service levels, a fourth track has been brought into operation over the 10 km between Vendenheim and Strasbourg gare.
Increased service over the REME network has come at the expense of the more lightly-used lines to Lauterbourg, Offenburg (Germany) and Sarreguemines. In addition, fewer trains now run beyond Molsheim in the Bruche valley, and also beyond Haguenau towards Wissembourg. This has angered user groups and local elected representatives of towns excluded from the benefits of the RER. There was also concern amongst user groups that SNCF was struggling to provide the 2022 levels of service with cancellations and delays due to signalling faults and inadequate rolling stock and staff, and were in no position to meet the increased service levels.
The rail unions also believe the increased service levels will not be achievable with the current fleet and staff complement. There was strike action on 7th December, four days before the launch, to highlight their view of the situation to rail users.
On the
first weekday of the service Monday 12th December, the morning service went well, but problems
occurred
in the afternoon, mainly due to rolling stock shortages resulting in the cancellation of 67 trains. The reduced timetables in the rural areas resulted in children being late for school. On the 19th December SNCF introduced a revised timetable covering the period until 30th December that reduced services by 25%. Described variously by SNCF
as "the consequence of a running-in period", in order "to restore the equipment due to climatic conditions", and "because the snow imposes slowdowns".
SNCF have drafted in additional rolling stock from other parts of
Grand
Est and recently retired drivers have been invited to return to work to help meet the shortfall in the 86 additional staff (mainly drivers and guards) required to operate the new rosters.
Grand
Est has ordered
a further nine Régiolis units and also a batch of 30 Régiolis battery-electric multiple-units, to operate the enhanced services. The latter will be part-funded by the Saarland Region to operate in Germany.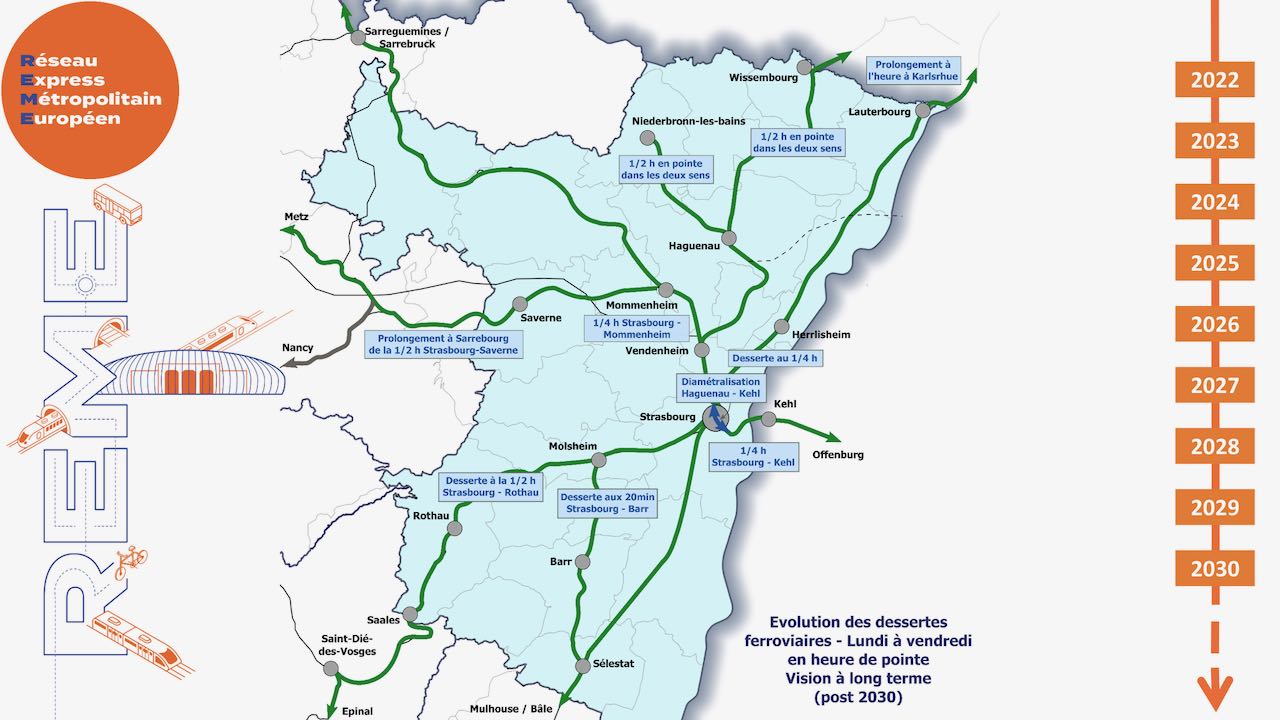 In the longer term, the project will link two more services to form a second cross-city route, and provide better interchange with other modes in central Strasbourg. Extension to the three German regions of Baden-Württemberg, Rhineland-Palatinate and the Saarland is planned for 2025 The project is not exclusively rail-based, as it includes provision of express buses for areas to the west of the city such as Kochersberg that have no railway.
The main element, however, will be creation of a true RER in Strasbourg with an underground loop from the existing station to the city centre and University to Neudorf (see plan opposite). Completion is not expected until 2030
An unusual sight at Toulouse on 3rd December as two southbound freights wait in the station for a path to Carcassonne and Narbonne. SNCF Fret BB 26107 with 489305 Hourcade – Miramas and Europorte E 4035 with 489343 Saint-Jory – Miramas 4035. Photo Georges Turpin.
Derailments at Carcassonne and Issoudun
Two wagons of Train 50924 Perpignan – Dourges, comprising 28 loaded container flats hauled by Sybic No 26134, became derailed approaching Carcassonne at around 17.00 on 23rd November, causing extensive damage to some 400 metres of recently-renewed track and also to platforms. Traffic was entirely suspended between Castelnaudary and Narbonne, and no trains ran on the Limoux branch until 5th December.
After dismantling of the catenary in the station area, removal of the derailed wagons was handled by SNCF's huge Kirow KRC1200 multi-task crane brought from Dijon. Repair work was initially concentrated on the less-damaged Line 1 (eastbound), where 1,500 concrete sleepers were replaced and signalling equipment renewed.
This was reopened for single-line operation (VUT – Voie Unique Temporaire) between Carcassonne and Capendu (18 km) on 29th November, allowing resumption of about 25 per cent of normal traffic. Line 2 required complete reconstruction between Trèbes and Carcassonne (7 km). Even with staff working round-the-clock, it was 16th December before normal traffic was resumed.
Limited replacement buses ran at Carcassonne, SNCF explained that it had had difficulty sourcing sufficient buses locally to provide an adequate replacement service and advised passengers to postpone their travel if possible.
Seen opposite on its return journey at Toulouse Montaudran on 30th November (Photo
Georges Turpin
.),
the Kirow crane was later detained at Saint-Pierre-des-Corps and diverted to Issoudun (photo below) where a grain train had derailed at 19.00 on 2nd December.
Five cereal hoppers left the rails, one ending up on its side blocking both tracks, closing the Paris – Limoges – Brive main line completely between Vierzon and Châteauroux. Traffic was interrupted until 8th December,
and no buses were provided except for school journeys
.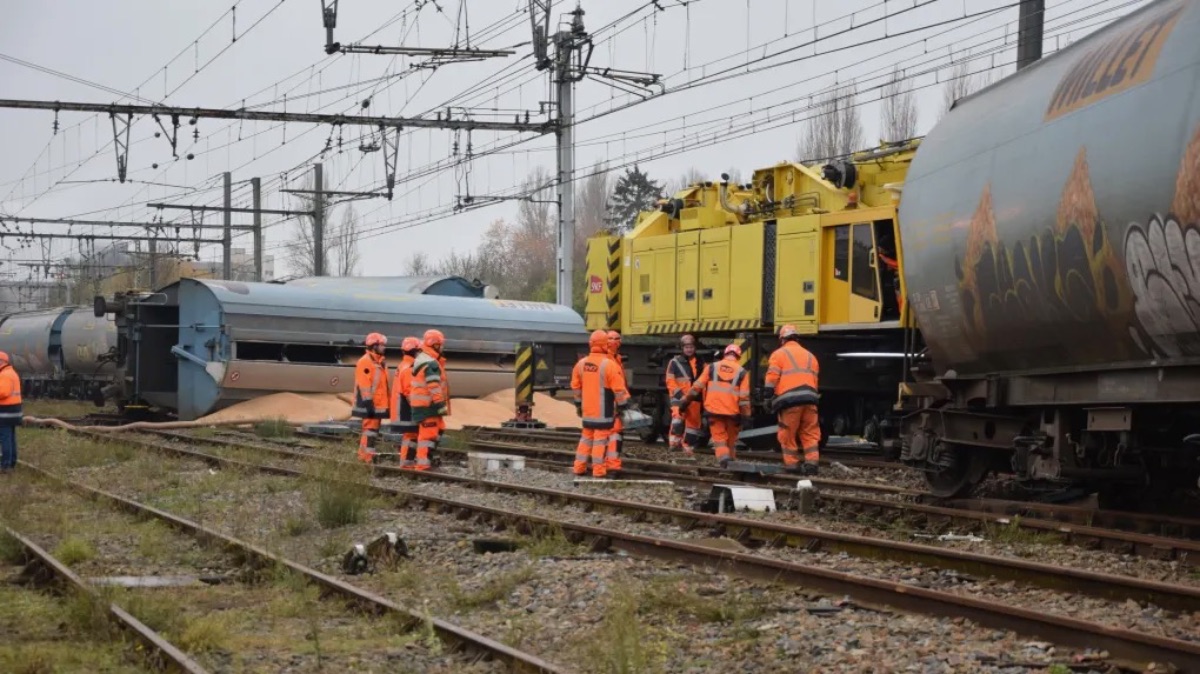 Hope for Abbeville – Le Tréport
Reopening of the Abbeville – Eu – Le Tréport line took a positive turn when the Minister of Transport, Clément Beaune, responded to elected officials promising a flexible approach to the issue of level crossings. Since 2008 it has been forbidden to have level crossings on new and reopened lines. The Abbeville – Eu section, closed since May 2018, has 29 crossings.
The minister accepted that this strict ban could compromise useful projects; a revised risk analysis was being published by EPSF, the public body responsible for railway safety.
The Minister also confirmed "the investments necessary for the regeneration of the line are intended to remain co-financed within the framework of the Hauts-de-France State-Region Plan Contract (CPER) by 2028, which testifies the commitment of the State and the Region to maintain the line". The Hauts-de-France region has agreed to meet 80% of the €80 million cost of rebuilding.
Beacon Rail acquires BB 27300s
Following an auction leasing company Beacon Rail has purchased 12 Class BB 27300 (27301/04/05/08/12/14/16-/18/20/23/24/25) from SNCF.
On the 9th December Europorte E37509 hauled eight of the locomotives (27301/04/05/12/14-18/20/25) from Longueau to Belfort via Somain. Presumably this is to return the locomotives to Alstom for any refurbishment or modifications required
Ouigo wi-fi and service changes
SNCF is now offering wi-fi on all of its low-cost Ouigo TGV services. Unlike the normal Inoui services where wi-fi is included, it will only be available on Ouigo as a chargeable extra. Basic internet access -
Ouifi
will be available at €3 a journey or -
Ouifun
with access to an entertainment portal offering
music, films, press and
games for
€5.
Changes to the Ouigo network from the new timetable see the introduction of daily
Brest, Saint-Brieuc, Guingamp, Morlaix and Quimper
–
Paris and La Rochelle
–
Paris services, while
Perpignan
–
Paris will operate seasonally for the second half of the year
On the down side Paris
–
Nancy is withdrawn as it is deemed unprofitable.
SNCF sells Akiem share
SNCF and DWS (Deutsche Bank) have announced that they have sold leasing company Akiem to CDPQ.
Akiem was established by SNCF in 2008 to lease surplus SNCF freight locomotives (BB27000,36000/37000/75000) as freight traffic fell due to the recession, and the the French railfreight sector was opened up to competition.
In 2016 DWS (Deutsche Bank) bought a 50% share providing the capital to widen the range of locomotives offered to include Bombardier TRAXX, GM Class 66, GE Class 70 and Vossloh/Stadler. G1000/1206/DE18 locomotives. The Akiem fleet currently consists of over 600 locomotives of which 75% are electric, and 46 passenger trains, mainly Bombardier Electrostar units. Turnover in 2021 was €220 million making it the largest rail leasing company in Europe.
The sale will reduce SNCF's debt by €0.8 billion and provide capital for subsidiaries Keolis and Geodis, which are the growth drivers within the SNCF group.
Hydrogen power for Vittel water trains
In a move to decarbonise its logistics by parent company Nestlé, the Vittel water trains will operate from 2025 over non-electrified tracks with electric locomotives powered by a hydrogen fuel cell generator wagon .
The technology is being developed by Alstom and Engie and provides an alternative to developing electro-diesel locomotives for "last mile" non-electrified lines. At present traction between the Vosges and distribution centres such as Montreuil-Bellay is provided by Captrain France Stadler E4001 diesels despite most of the route being electrified.
New Paris – Sète semi-trailer service
November 17th saw the introduction of a new "rolling motorway" service between Valenton, Paris and the Mediterranean port of Sète for unaccompanied HGV semi-trailers. Sponsored by the government to reduce road transport the service is aimed at both domestic and maritime traffic. Operated by Rail Logistics Europe and VIIA it was initially running three times a week, and will now increase to six return trips a week with capacity for 25,000 trailers annually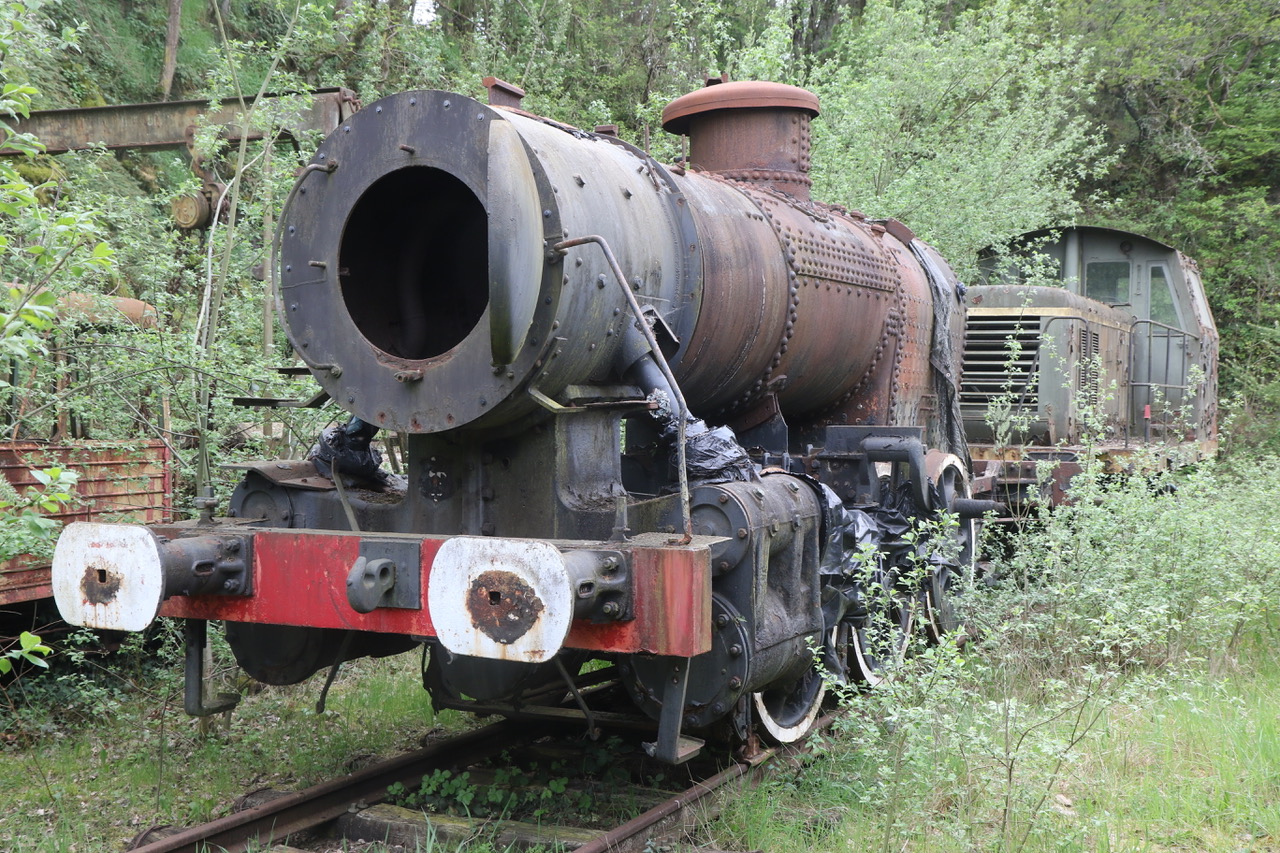 030 TU 13 moves to Sotteville
The restoration of 030 TU 13 took a major step forward at the end of November when it was transferred to PVC (Pacific Vapeur Club) at Sotteville-lès-Rouen.
Built in Pittsburgh in 1943 for the US Army it arrived in France in the summer of 1944. After the liberation it was sold to SNCF and withdrawn in 1968. it was bought by the Société des Chemins de Fer d'Étival in Senones, then in 1979 by the City of Caen. It was then sold in 1996 to the Association for the development of the Caen – Flers line (ACF).
In recent years it has stood in a derelict state at Pont-Érambourg where it was photographed above in 2018, as ACF have concentrated on developing a velo-rail. Photo: Georges Turpin
Occitanie weekend €1 tickets
The first of Occitanie région's weekend offers of TER travel (see item in December news) for €1 took place on the 3rd and 4th December 2022. Over 26,000 tickets had been sold in advance and SNCF strengthened trains on several routes to accommodate the large number of passengers. In the event, 65,500 €1 tickets were sold, plus there were a further 10,000 journeys made by pass-holders. The total represented an increase of 141 per cent over the figures for the same weekend in 2021; 29 per cent of travellers were using the train for the first time.
The offer applies to the first weekend of each month, coinciding with free entry to most museums in the region.
Major railfreight investment for Marseille region
The Aix-Marseille-Provence
Métropole
has announced major investment plans to improve railfreight facilities in the region, including the development of a local freight network, to reduce traffic congestion and pollution. Nearly 100,000 of the region's 1.8 m. inhabitants are employed in jobs linked to the logistics sector that transports 176m. tonnes of goods through the region annually. The Port of Marseille is predicted to increase container traffic from 1.4m in 2021 to 3m in 2030. With 85% of freight transported by road 71% of the population are exposed to pollution that exceed WHO thresholds.
The Master Plan for Logistics and Freight Transport brings together new and existing investment projects that will see €111 million invested in rail facilities between 2023-2026. At Miramas Triage €25m. will be spent on upgrading facilities. Nearby, the €24 million Terminal Ouest Provence (TOP) is being constructed to handle 52,000 intermodal transport units (ITUs) annually to replace the Cadet facility in Marseille, and should open in 2024. The adjacent freight terminal at Clésud will have its capacity increased from 50,000 to 100,000 ITUs annually at a cost of €11.6 million. Further south a further €60 million will be invested in new container terminals in the Bassins Ouest area.
In Marseille a six-track terminal with portal cranes will open in 2025 at Moureplane near the Gare Maritime Internationale at a cost of €18.5 million, with a new €15 million rail connection.
A local freight service Service de Proximité de Fret Ferroviaire (SPFF) centred on Miramas will utilise upgraded existing facilities at Saint-Martin- de-Crau, Marseille Nord, Marseille Est and Marseille Centre. It will operate over four routes (Fos – Saint Martin de Crau; Fos – Clésud; Fos – Arles/Gardanne; and Miramas – Marseille) with a planned 22 trains per day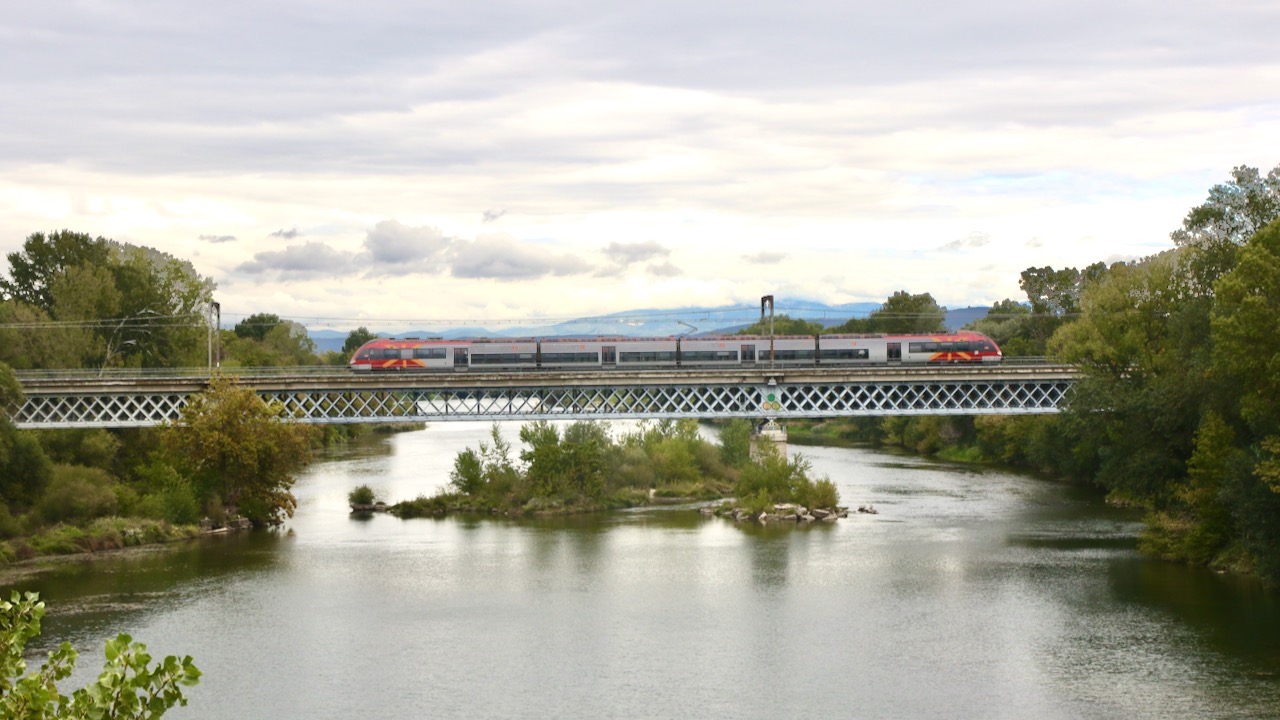 Rhône right bank passenger return
Regular passenger services returned to the right bank of the Rhône on 28th August after an absence of 49 years, with the re-introduction by the Occitanie Region of trains from Nîmes and Avignon to Bagnols-Sur-Cèze and Pont-Saint-Esprit. With no turn-back facilities at Pont-Saint-Esprit trains have to travel empty nearly 40km to Le Teil to reverse. Above on 30th September the 876710 Nîmes - Pont-Saint-Esprit has dropped off its passengers and now crosses the Ardèche, leaving Occitanie région for Auvergne-Rhône-Alpes, en route to Le Teil where the platforms have yet to be bought up to modern standards to allow regular passenger services. Below right. On the same day Z 27735/6 passes non-stop through the re-opened Pont-Saint-Esprit with the diverted 886179 Lyon-Part-Dieu – Avignon. This train had made a commercial stop at Le Teil, corresponding to to its scheduled stop at Montélimar station on the left bank of the Rhône. All photos: Georges Turpin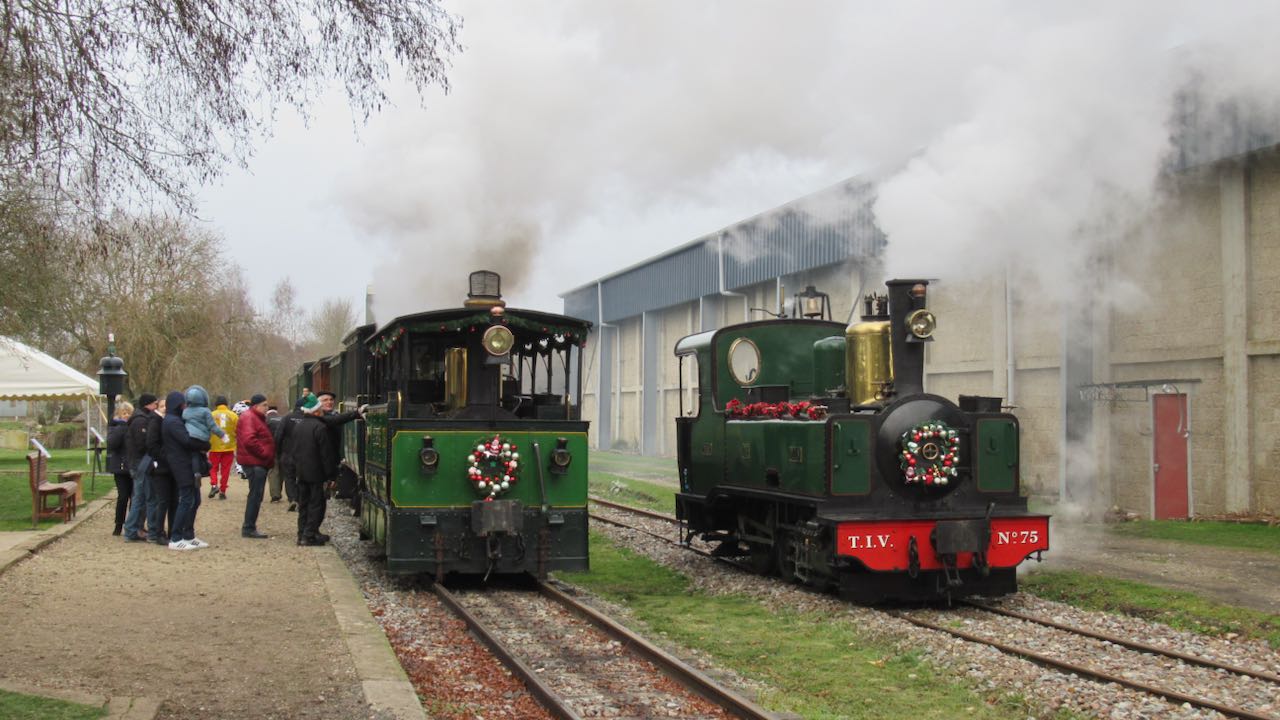 December saw most preservation lines re-open for the "Père Noël" Christmas special season. On Sunday 11th December at Crèvecour-le-Grand both Corpet-Louvet Tramways d'Ile et Vilaine 75 and Blanc-Misseron Sarthe Tramway 60 were in steam to operate MTVS services that were completely sold out, and saw 1616 passengers carried over the weekend. Photo
Olivier Janneau
This year the Historic Train of Toulouse had planned three Père Noël specials using their three modes of traction. Unfortunately, following the derailment at Carcassonne, the 10th December train from Toulouse to Carcassonne with 141 R 1126 had to be cancelled. On 17th November, the day after the return to normal working, BB7338/7398 ran from Toulouse to Narbonne, and on the 18th December BB 66304 ran to Albi, seen below on the double track section shortly after leaving Matabiau. Photo Georges Turpin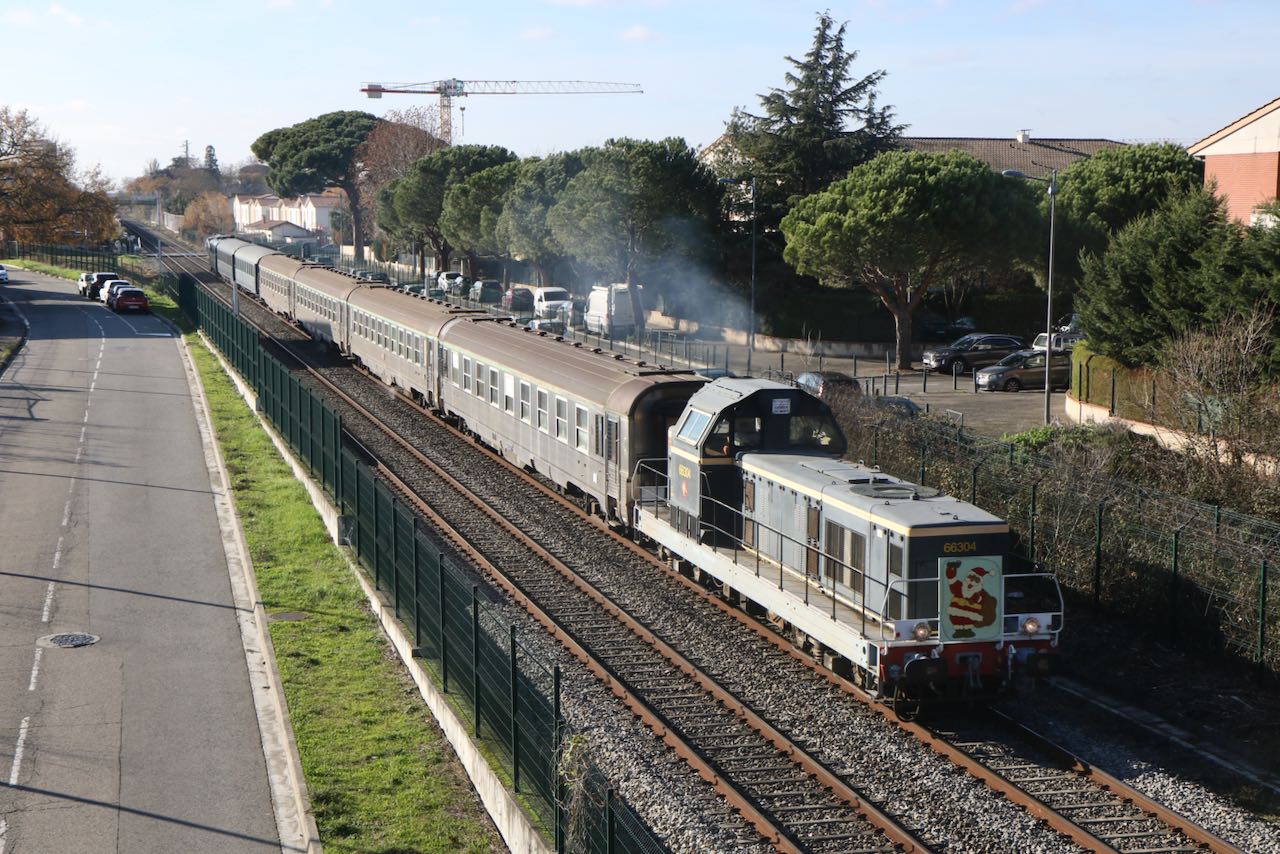 New home for X8013 La Richelaise
After some years of uncertainty X8013, prototype of the X5600 Class has been restored and given a permanent home.
Following the Second World War, the National Federation of Railway Workers sought the re-opening of the Régie Ferroviaire Richelaise, a branch linking Richelieu with Ligré-Rivière, on the Chinon -- Argenton-sur-Creuse line. A departmental line belonging to the Indre-et-Loire Department, it had been closed in 1937 and not been taken over by SNCF when it was created in the following year. In 1946 the Department instructed local manufacturer Billard of Tours to produce a lightweight autorail that would be economical to run and easy to maintain. The vehicle produced, known as La Richelaise, consisted of a two-axle box-beam chassis, entirely electric-arc-welded and riveted in steel, weighing 2,950 kg, equipped with an 80 hp Panhard 4 HL diesel engine for a maximum speed of 65 km/h. It could seat 32 passengers with room for 25 standing and was operated by one crew member.
Entering service in 1947, it went initially to Montauban where SNCF had two similar models (X8011/12, later XBD 5008/09), receiving the number X8013. These were the prototypes for the 53 strong Class X5600 introduced between 1948 and 1953. By November that year X8013 was back at Richelieu and ran between there, Chinon and Tours, operated by CFD, until the service was withdrawn in 1960. It was then used as a draisine.
X8013 passed to the preservation group Trains à Vapeur de Touraine (TVT) which took over the line in 1974 and ran tourist trains until operations were stopped by the préfet for safety reasons in 2004. In 1996 X8013 was declared a Monument Historique. After some years of operating as a railway museum at Richelieu, TVT re-branded itself Train à Vapeur Thouarsais in 2014 with the aim of operating between Thouars and Loudun on the Saumur -- Sables-d'Olonne line. The Department had by then decided to turn the Richelieu line into a cycleway in preference to it being used for tourist trains on summer Sundays. X8013 and the TVT rolling stock were moved to Thouars, but the project failed to come to fruition.
When TVT was disbanded in 2016, X8013 was returned to its owner, the Indre-et-Loire Department, which was required to preserve it as it had been declared a Monument Historique.
It was in poor condition, and after consultation the decision was made to restore it and put it on display in Richelieu. X8013 was moved to CITEV (Compagnie Internationale des Trains Express à Vapeur) at Saint-Jean-du-Gard, where it was restored as a static exhibit at a cost of €113,000. It was returned to Richelieu in September 2022 where it has been put on display in part of the former goods depot adjacent to the station.
Opposite X8013 on display behind glass screens within the former goods depot. at Richelieu. Photo
©
NR Alexandre Salle
Top left. X8013 at Richelieu in 1976 in the early days of TVT, who rarely used it. Top right. The newly restored goods depot at Richelieu in August 2022.
Opposite. The 1950 Chaix showing services between Tours, Chinon and Richelieu. Note that services 573/578 only operate on the second and fourth Monday of each month, and services 575/576 on Thursdays and the first and third Saturday of each month. A level of service UK rail users will currently be familiar with. Photos
Georges Turpin
.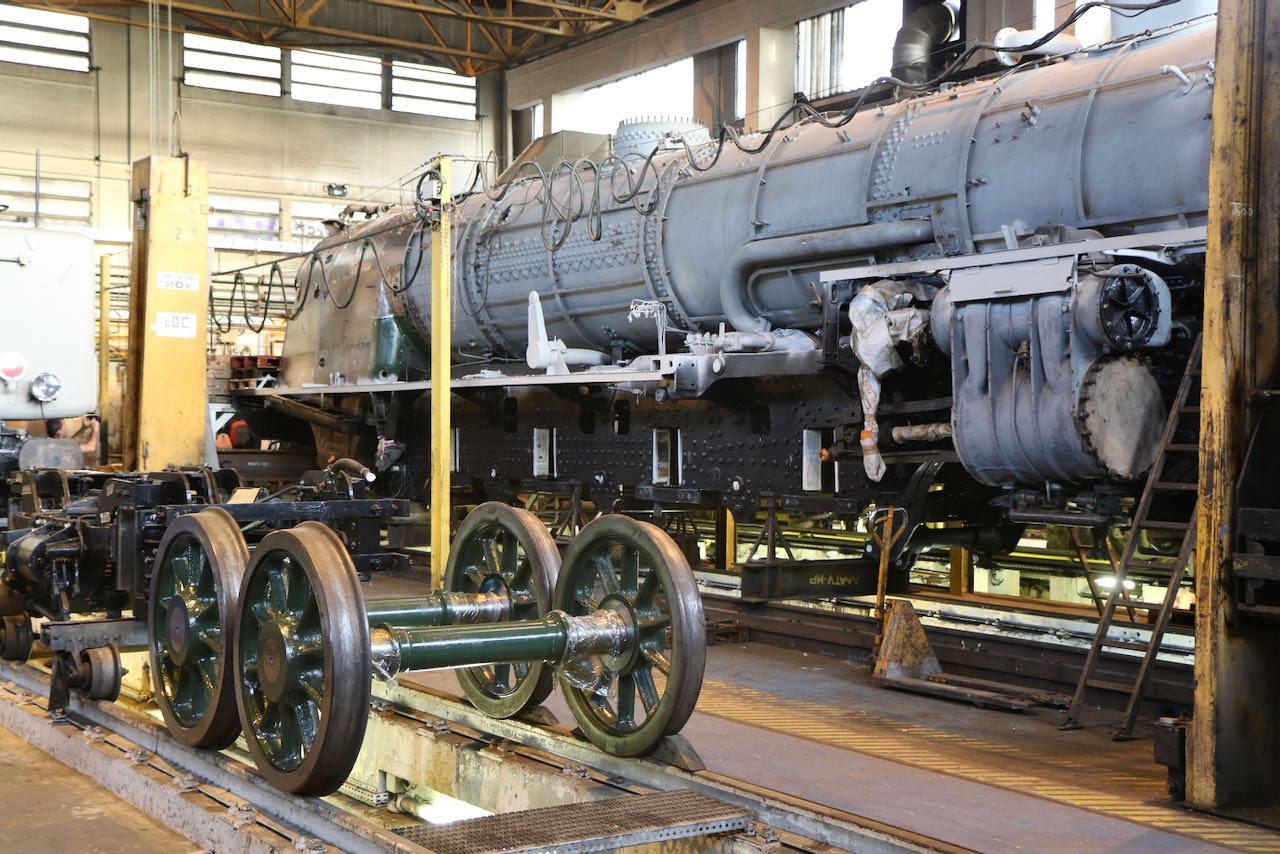 While many of the buildings around it in the former Toulouse depot were being demolished as part of the creation of the Grande Matabiau, work continued throughout 2022 on restoration of 241 P 9 by AAATV (Amicale des Anciens et Amis de la Traction Vapeur Midi Pyrénées) . A total of 41,900 hours work have now been clocked up.

Work on the axleboxes and wheels is largely complete. Re-mounting the frame and boiler onto the axles is scheduled for February 2023 (top) A lot of work has also been completed on restoring the boiler and firebox, with specialist help from CITEV (Saint-Jean-du-Gard), including replacing some corroded sections (above left), with the boiler now ready for cab fittings (above right). Many of the boiler cladding sections were badly dented and irreparable, so a jigsaw of new sections has been made (lower left). Little now remains to be done on the tender (lower right). A new rear panel has been installed along with the TIA equipment and brakes; these have been successfully tested with compressed air. New brake blocks have been cast, a task undertaken in conjunction with 241 P 17 which was also undergoing restoration in 2022. Tender water traps provided by engineering students from a technical school at Decazeville have yet to be fitted and the tender re-painted. All photos: Georges Turpin.

With redevelopment of the Matabiau area ongoing, the pressing issue now for AAATV is to find a new home for 241 P 9 and their equipment. The current workshop is scheduled for demolition during 2023, with the land being ceded to finance redevelopment of the station.
Additions to FRS Photographic Archive during November & December 2022

To Photographic section
Additions to Folder 1
Colour photographs of David Thirlwall




Colour photographs of Michael Brackett




B&W photographs as additions to the existing Millbrook House gallery




Colour photographs as additions to the John Snell gallery

Two new galleries covering the Dreux (Nov22) and Meursault (Dec22) Model Railways Expositions
PS: Any additions to Folders 4, 7 & 11 (originating from Wikipedia & other sources) have COPYRIGHT RESTRICTIONS and are intended for personal enjoyment by members only
Additions to the FRS public folder during November 2022
Photo index for David Thirlwall images




Photo index for Michael Brackett images




Expanded photo indexes for Millbrook House & John Snell galleries
Above. 141 R 840 catches the setting sun as it heads home to Orleans from Tours on 17th December. Photo
Erwan Quintin
© Peter Lovell & Chris Bushell. The French Railways Society 2023. With thanks to Georges Turpin, Erwan Quintin, and Olivier Janneau