140 C 27 visits Ligne des Cévennes
Having enjoyed a successful summer standing in for 241 P 17 at Le Creusot, 140 C 27 finished its season on the 1st October with a run up the
Ligne des Cévennes
from Nîmes to La Bastide Saint-Laurent-les-Bains (48). This was the first steam locomotive to visit the line since 2005, and on this occasion taking the harder northbound approach. The event drew an exceptional number of rail enthusiasts and photographers to the area. Tickets for the four coach
Chemin de fer du Creusot
set had sold out within hours. It is seen above on the outward journey near the summit of the line approaching the La Bastide tunnel. (Photo
Georges Turpin
)
Leaving Nîmes at 8:48 a.m. 140 C 27 Travelled at 80 km/h on the easy double-track section to Alès. Here a lengthy water stop was taken before embarking on the 68km section rising from 135 m at Alès to 1023 m at La Bastide, passing through 50 tunnels and crossing a number of viaducts.
Opposite.
At Villefort an unscheduled stop was made, that provided an opportunity to build up the fire before attacking the next 11km section at an almost continuous 1 in 40 gradient. (Photo
Christophe Masse
).

Below left. Arriving at Génolhac, there seem to be as many people at the station as inhabitants of the town. On the right hand side platform a few bewildered travellers wait for a Clermont-Ferrand – Nîmes train. Below right. With no turning facilities at La Bastide the return was tender first and is seen crossing the Chamborigaud Viaduct. Both photos Georges Turpin

On Wednesday 28th September SNCF
Fret
BB 27083, rather than a CMR locomotive, is seen passing through St.Pierre du Vauvray with a withdrawn SE TGV (believed to be 65) being transferred from Bobigny to Sotteville for disposal. Most of the withdrawn locomotives have gone from the yard at Sotteville and it is used for withdrawn Corail coaches, TGVs and electric units. Photo
Jocelyne Bourneuf
Intercités routes to be re-tendered
The French Government is to relaunch the competition for the Nantes - Bordeaux and Nantes - Lyon routes. The previous competition was interrupted by Covid when Arriva (DB) Eurorail and Transdev withdrew and did not bid, leaving SNCF as the sole candidate.
The most recent agreement signed in March between the government and SNCF provides for further competitions. The new version of the call for tenders for the two routes also includes "that the candidates propose an optional offer for the development of a link between Nantes and Lille" which would pass through Angers, Le Mans, Caen, Rouen and Amiens,
The successful bidder will take over operations in 2027.
Below: The 13.55 to Nantes waits to leave Bordeaux St Jean on 19th April. Photo Chris Bushell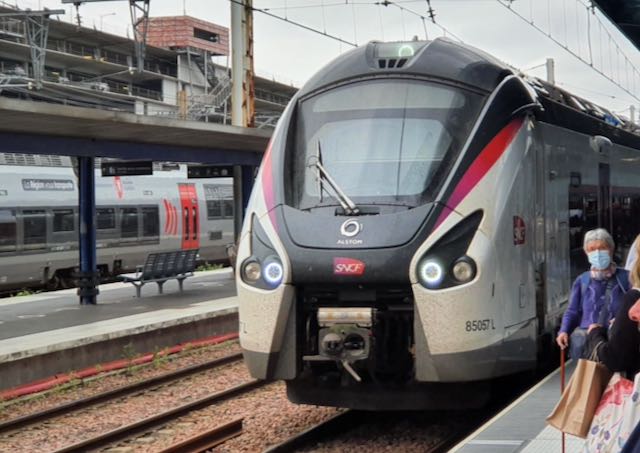 Cargobeamer expands Calais site
Cargobeamer has purchased a 41,149 m² site from the municipality at Calais, enabling it to expand its existing rail terminal allowing the reception of longer trains and increasing capacity.
Since 2021 Cargobeamer has operated a piggyback service for semi-trailers between Calais and Perpignan
Paris - Freiburg services to increase and call at Ringsheim / Europa-Park
From December the Paris and Freiburg im Breisgau service will increase to three daily, and call additionally Ringsheim / Europa-Park. Voted the best leisure park in the world from 2014 to 2022, Europa-Park celebrates Europe through its themed districts, each representing a country. Journey time from Paris will be 2hrs 37 min. with a 10 minute shuttle to the park.
Franciliens take over Line P services
From the 3rd September Class Z50000
Francilien
units have taken over Line P services between Paris Est and Longueville – Provins. They replace bi-mode AGCs, and as previously reported Île-de-France Mobilités will be selling 11 units to regional TERs -
Bretagne (2), Hauts-de-France (2), Sud-Paca (2) Auvergne-Rhône-Alpes (1), Centre-Val-de-Loire (3) Normandie (1)
SNCF Fret opens Haute Maurienne maintenance depot
On the 8th September SNCF Fret officially opened its new maintenance facility at Modane. Located in the former Modane roundhouse the depot will undertake light maintenance and servicing and is designated a
Paloma
(
P
etit
A
telier
LO
cal de
MA
intenance). Operational since the end of 2021 it replaces facilities initially located at Saint-Jean-de-Maurienne. With three electrified roads the Modane facility can service 30 locomotives a week.
The Modane site was chosen due to its close proximity to SNCF Fret's operations and joins similar facilities at Woippy, Sibelin, Le Bourget and Miramas yards. Photo SNCF.
Ouigo increases Spanish network
SNCF extended its operations in the Spanish domestic market from 7th October with the introduction of low cost Ouigo services between Madrid and Valencia. Five services will operate each way daily offering 35,600 seats every week. Since SNCF launched its Ouigo service between Madrid and Barcelona in May 2021 they have carried over 3 million passengers.
From 11th December TGV INOUI will be operating a second daily service from Paris Gare de Lyon and Barcelona Sants. Calling at Valence, Nîmes, Montpellier, Sète, Agde, Béziers, Narbonne, Perpignan, Figuères, and Girona the services will take just over six and a half hours for the 1,000 km. journey. A third daily service will be introduced in June 2023
SNCF to reduce energy consumption by 10%
SNCF has announced plans for a 10% reduction in energy consumption by 2024. As the leading industrial consumer of electricity in France, SNCF is heavily exposed to the current energy crisis, in addition to the need to reduce energy consumption for environmental reasons. SNCF consumes more than 9,000 GWh annually, broken down as follows:
81% for powering the 15,000 electric trains operated daily
16% to run stations, offices, workshops, etc
3% for road vehicles (mainly service vehicles)
The aim is to reduce consumption, compared to 2019 levels, by 7% in 2023 and a further 3% in 2024. The main contributor will be a change to more economical driving practices, including when trains are parked or stationary. This is anticipated to save 750 GWh annually, the same amount as consumed by the inhabitants of Nice.
In stations, heating will not exceed 11°C in public areas (16°C in waiting rooms). Radiators and heated seats will be turned off and lighting will be regulated with lights no longer left on in station interiors and shops when closed to the public. Offices will only be heated to 19°C and air conditioning will only kick in when temperatures reach 26°C, each one degree reduction in heating or cooling saving 7% of building running costs. Hot water will only be available for showers and no longer for wash hand-basins. On Fridays, office staff will be encouraged to work from home. For those needing to attend offices, only specified areas will be open with heating turned off in unoccupied areas.
For electric service vehicles, recharging will take place outside the peak electricity consumption hours of 08.00 to 13.00 and 18.00. to 20.00.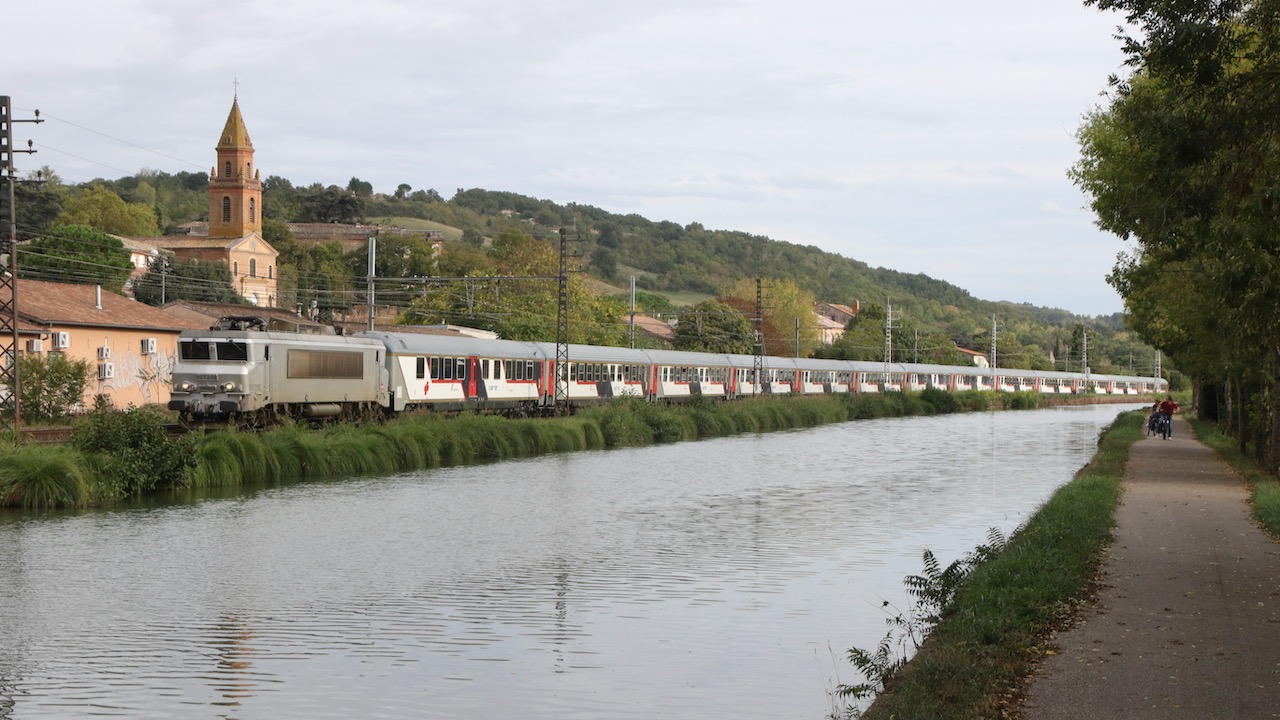 Tarbes - Montréjeau closed for six months
On the 17th October services between Tarbes and Montréjeau were suspended until the end of March 2023 for engineering work. The €71 million project funded from the France Relance scheme will see refurbishment work at the Lhez, Laslades and Sarrouilles tunnels, replacement of catenary between Capvern and Tarbes and track renewal between Lannemezan and Capvern.
For the 10,000 passengers a day who use the line there is anger at the extended journey times and reduction in service. In recent years suspensions have taken place while 218km of track was renewed between 2015 and 2020. The overnight Paris - Lourdes sleeper will now deposit passengers at Auterive (on the Latour-de-Carol line!) for onward journey by coach, with journey times to Tarbes extended by 1hr 30min. and Lourdes by 1hr 50 min. The Toulouse - Hendaye Intercité service will be replaced entirely by bus. With only three daily services west of Pau passenger travelling from Tarbes to Paris are given the option of a bus to Montréjeau, TER to Toulouse and TGV forward increasing the journey by three hours.
For Lourdes pilgrim traffic from Italy and the the east the blockade at Tarbes is a major obstacle. Diverted from Toulouse across southwest France via Bordeaux and Dax their journeys are extended by 350km adding on another 3hrs. Above on 21st October BB 7250 is seen passing the Garonne at Pompignan with a 14 coach pilgrim train on the 2,550 km journey from Reggio Calabria to Lourdes. Photo Georges Turpin
Centenary of 1,500v DC operation in France
The 30th October marked the 100th anniversary of the first 1,500v DC electric train working in France, when Midi E4002 worked from Pau to Tarbes. The electrification transformed railway operation in South West France and some of the original Midi Inclined Catenary is only now being replaced as part of the work being undertaken during the Tarbes -- Montréjeau blockade mentioned above.
E4002 was still in works primer in October 1922 and was not formally accepted into service until the following year. After various renumbering it became BB 1632 and is preserved at Mulhouse. The BB 1600s were followed in the mid 1920s by the BB 1500s and both classes enjoyed longevity with many examples seeing 60 years of service. Right and below, BB 1647 at Narbonne and BB 1501 at Toulouse both on the 2nd July 1978. Both photos Georges Turpin.
Villeneuve Demain project gets underway
The
Villeneuve Demain
project took a step forward on the 19th October when the conveyor built to convey rubble and spoil was commissioned.
Villeneuve Demain
is a €500 million project to modernise the Villeneuve Prairie Technicentre, used to maintain rolling stock from RER Lines D & R operated by Transilien SNCF on behalf of Île-de-France Mobilités.
Surrounded by railway lines and roads a key issue has been the removal from the site of 10,000 tons of rubble and spoil from buildings being demolished. The conveyor will transfer the material from the site, across the RD 138, to the port of Bergeron in Villeneuve-Saint-Georges, where it will be transferred to barges. The conveyor is covered to reduce noise, and fitted with dust extractors. Operating during limited hours it is located more than 250 metres from the nearest dwellings. It is expected to save between 20-30 lorry journeys a day during the demolition and clearing stage. Despite the close proximity of a large locomotive depot and marshalling yard, perhaps no one thought of removing the spoil by rail - 10 x 1,000 ton trainloads?

Rennes Metro Line B opens
On 20th September Rennes inaugurated Metro Line B. Crossing the Rennes metropolitan area along a South-West axis, Line B is a fully automated driverless system with 15 stations spread over 13 km.
The entire system has been engineering, delivered, and implemented by Siemens Mobility. This covered rolling stock, the automated train control system, the track system, the electrification, the platform doors, the operating control centre (OCC) and the garage workshop facilities, including on-going training and maintenance.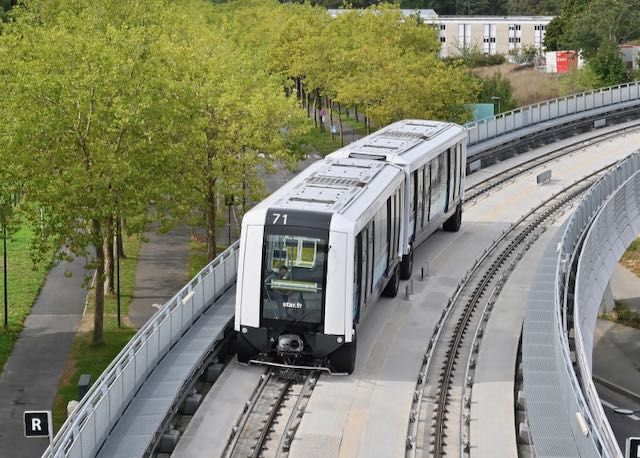 25 Siemens Cityval two car units have been supplied. These operate on the Siemens Val system with rubber tyres and a central guide rail. They can climb 1 in 10 gradients, negotiate tight bends and operate with a 67 second interval between services. The Cityval has wide doors, floor to ceiling windows, video surveillance and real-time passenger information. Regenerative braking provides 15% of the systems power. An additional third car can be added to the two car units, increasing capacity without additional infrastructure. Photo Siemens
Electric traction - Steam heat
On 15th October
Le Train historique de Toulouse
ran an excursion from Toulouse to Cerbère. With the early morning temperature falling to 12° C the boiler van was included to give the unusual combination of electric traction and steam heat.
The excursion is seen above and opposite waiting to leave Toulouse with BB 7338, BB7398 (dead in tow but would power the return trip), boiler van, two Compagnie de l'Est coaches built in the 1930s, and four Inox vehicles from the early 1960s. With steam drifting up from beneath the coaches a comforting sight on a chilly morning. Photos Georges Turpin.
Final train of the season
The last train of the season for
Train à Vapeur en Limousin
(CFTLP) was on 25th September from Limoges to St Junien where a vintage commercial vehicle rally was being held. 141 TD 740 and 140 C 38 are seen above departing from Verneuil-sur-Vienne station on the outward journey.
Opposite is a 28 minute video of both the outward and return journeys and of the commercial vehicle rally. Both. Alan Allbuary

Baie de Somme developments
CFBS have restored another Lartigue Nord signal. Recovered from Incheville on the Le Tréport - Beauvais line it has been erected at the entrance to St-Valery Canal. Although operational it does not play any part in controlling traffic. Above. Haine St Pierre 1-3-0T no.15 passes the restored signal with the morning train from St Valery to Le Crotoy.
The creation of the four seasons dining train using ex RhB vehicles is now nearing completion. The two restaurant vehicles and generator fourgon have been restored and converted from overhead power supply, and two further vehicles have been converted and repainted (photo right). One will provide seating for the dining train, the other will provide catering at Le Crotoy. A further seven ex RhB vehicles have been acquired (some not delivered) and will be available for conferences and winter land cruises once modified and adapted to three-phase 400V 50 Hz.. Photo.
Michael Bunn
From 2023 CFBS will operate vélorails on the Cayeux line. Initially from Cayeux to Hurt, and to Lancheres once the automatic level crossings have been adapted with both "Train" and "Vélorail" modes. On days when both trains and velo-rails are operating, an operator will apply a regulatory procedure to suspend the "train" mode of the Lanchères - Cayeux line section to place the section in "Vélorail" mode. A video of the demonstration run is below left.
Still to be decided is how to turn the
vélorails
. The options are to turn them on a concrete slab with two (strong) people lifting them above flange level, or to install capstans that will lift and turn the velorails. See video below right.
Over the winter further major trackwork will take place at Noyelles. The current crossover will be removed and replaced further away from the station with four new sets of points. This will allow the platforms to be extended slightly and the distance between them widened, allowing more room between trains, and making it safer when unloading cycles and pushchairs from the fourgons.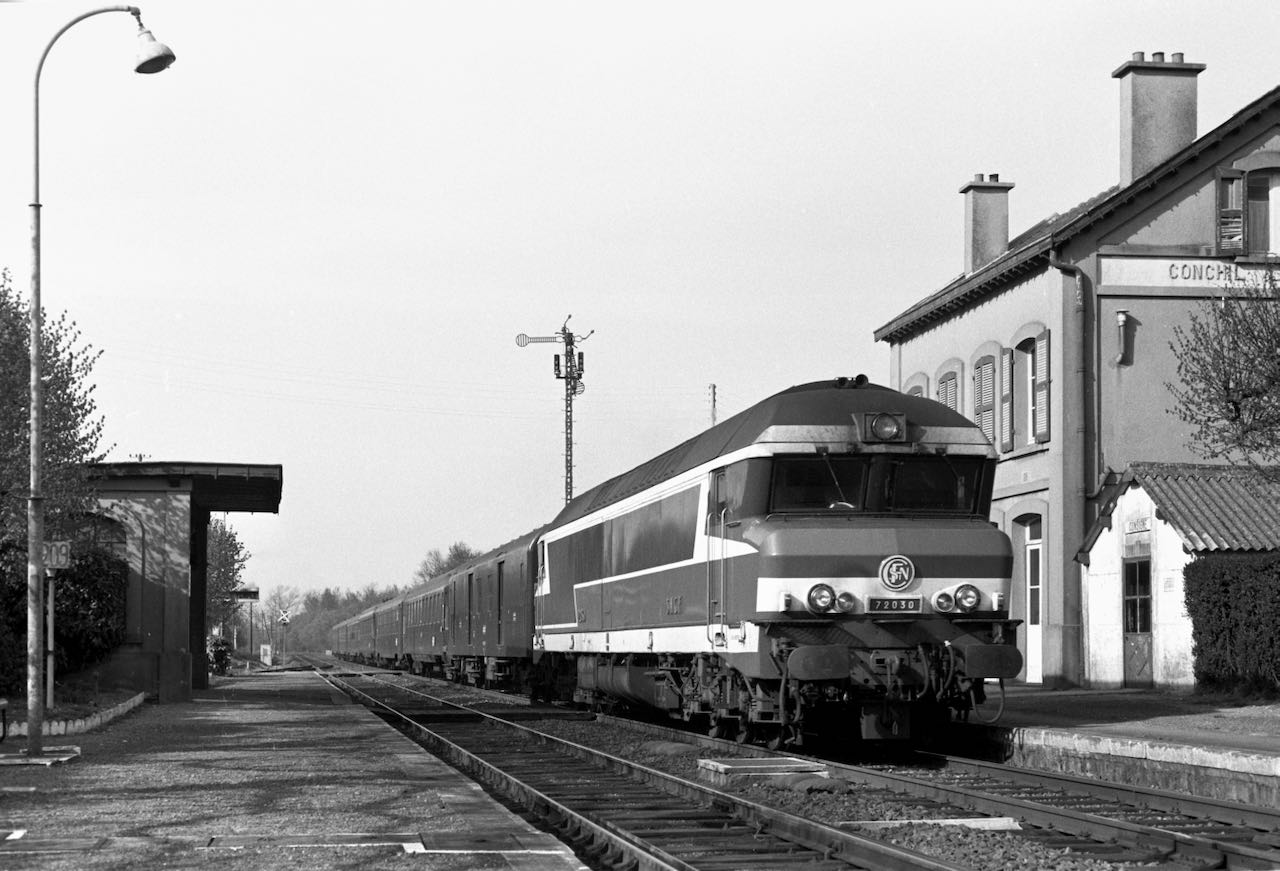 Just over forty nine years ago on 15th August 1973 CC 72030 is seen passing through Conchil-le-Temple between Boulogne and Abbeville with train 2034 15:20 Calais Maritime - Paris Nord, only a couple of years after steam had finished on the line. Because this was a jour de ferie the composition is a modest load of seven. (1 fourgon,4 USI and 2 DEV). At the time the station was still open with operational Lartigue signals. Photo Michel Costes
Opposite. The view today taken in September looking in the opposite direction. All of the platform structure on the down side has been removed and replaced by a prefabricated building, that appears to be unused. The station building, hidden behind the trees is up for sale, although in a dilapidated condition. A station name plate is still visible along with a recently erected cell phone transmitter.
The goods yard to the south of the station is still in use having been re-signalled when block colour lighting was installed in 2012. It is used for the transfer of wagons with sleepers from the EMIFOR concrete factory located along a 2km branch line that runs parallel to the main line
Additions to FRS Photographic Archive during October 2022

To Photographic section

Additions to Folder 1
Colour photographs of John Snell




Colour photographs of Eric Russell



Additions to Folder 4 ("AFAC & other articles")
Additions to Folder 7 ("Miscellaneous")
Additions to Folder 11 ("Railway stations")
PS: The additions to Folder 11 (originating from Wikipedia & other sources) have COPYRIGHT RESTRICTIONS and are intended for personal enjoyment by members only
To Locations section

LVDR 634-Feb 1958 - Lyon/St Etienne electrification




LVDR 856-July 1962 - Paris Montparnasse



Additions to the FRS public folder during October 2022
Photo index for John Snell images



© Peter Lovell. The French Railways Society 2022. With thanks to Chris Bushell, Georges Turpin, Christophe Masse, Michel Costes, Jocelyne Bourneuf , Alan Allbuary,
Michael
Bunn and Alain Paillard